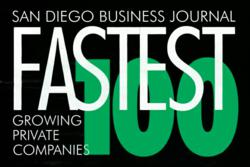 If you continually deliver first-class service, people are going to want to work with you.
San Diego, CA (PRWEB) May 31, 2013
Samuel Scott Financial Group has once again been acknowledged for their exceptional growth and production. The boutique mortgage company was just named on the San Diego Business Journal's 10th annual list of the Fastest Growing Private Companies. In a special reception being held on July 11th, the official rankings for these exceptional businesses will be revealed.
"There is no question about it. Being recognized on this list is clearly a testament to the hard work of our employees," said Todd Pianin, founder and Senior Managing Director of Samuel Scott Financial Group. "If you continually deliver first-class service, people are going to want to work with you."
Since the beginning of the year, Samuel Scott has hired several new Mortgage Advisors and substantially expanded their support staff. With new Administrative, Marketing and Financial professionals working full-time in the office, the company is remarkably organized and efficient. Many of their loan originators are also adding new professionals to their teams and raising the bar on customer service.
Mark Robertson, a consistent Top Producer at the company, stands out for his team's fantastic growth in 2013. Already well supported by two dedicated Loan Partners, Robertson has recently hired a new Loan Officer, Loan Partner and Marketing Assistant. "I believe in going above and beyond for my clients," said Robertson. "I am so proud of my team, and know that my clients are going to feel the impact of this type of support. It's a win for everybody."
Alex Scoma, another leading Mortgage Advisor at Samuel Scott, has been expanding his team and developing new ways to serve his clients and real estate partners. Known for his meticulous systems and strong client communication, Scoma now manages two full-time Loan Partners. He says his focus is on "guiding clients through a seamless real estate transaction."
The San Diego Business Journal's List of Fastest Growing Private Companies includes some of the most dynamic local organizations and represents the vitality and expansion being seen throughout San Diego's reinvigorated economy. "We're honored to be on this list," said Pianin. "It motivates us to stay focused and keep putting our clients first. With the energy that emanates from our office, it's no surprise we are attracted to such talented professionals."
About Samuel Scott Financial Group
Samuel Scott Financial Group is a boutique mortgage company recognized for superior customer service and the way their Mortgage Advisors tailor the residential loan process to fit each individual client. Consistent and reliable, Samuel Scott Financial Group has been selected as The Best Mortgage Company in San Diego for the 7th straight year by readers of local publications. In 2012, the San Diego Business Journal recognized Samuel Scott as one of The Best Places to Work in San Diego and they were named in the Inc. 500 | 5000 list of Fastest Growing Companies in the nation.
Career Opportunities at Samuel Scott Financial Group
Samuel Group Financial Group is expanding throughout Southern California. If you share our passion for first-class service and continually strive to set the benchmark for financial excellence in the mortgage industry, we want to talk with you about career opportunities for Mortgage Advisors and loan professionals. Please contact Russ Schreier, at 858-436-1187 or Russ(at)SamuelScottFG(dot)com to schedule an interview.