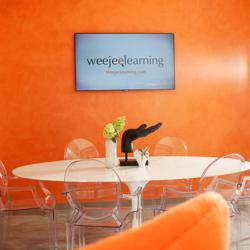 Durham, N.C. (PRWEB) May 31, 2013
Weejee Learning, a global provider of custom, interactive and fun e-learning solutions for corporations, non-governmental organizations, associations and nonprofits, is partnering with Bolt Public Relations as its agency of record. Bolt PR, a bi-coastal award-winning agency, will manage public relations efforts and support ongoing marketing plans from its Raleigh office as Weejee continues an aggressive growth strategy through 2014.
Weejee, which is headquartered in Downtown Durham, takes an innovative approach to learning. Leveraging its unique brand of fun – a proven method for increasing the effectiveness of training or learning initiatives – Weejee provides custom digital solutions, curriculum and learning needs analyses, program design, social learning strategy, and instructional design and development. Nearing its third anniversary, the company is looking to continue its rapid rate of growth and further establish itself as a leading global provider of e-learning content development.
"In Weejee's first few years, we focused on ensuring we have exceptional end results for every client project," said Ian Huckabee, CEO of Weejee. "That success has translated in to steady expansion. With our team in place, Bolt PR's strategic insights, creativity and industry connections will provide further exposure, generate unique new prospects and ultimately help us meet our continued aggressive growth projections."
Founded in 2007, Bolt PR has offices in both North Carolina and Irvine, Calif. The agency's core services include media relations and press coverage, social media, web traffic strategy, event planning and publicity, community relations, and grassroots marketing campaigns. It specializes in both consumer and business-to-business campaigns including work with technology, nonprofit, food and restaurant, fashion, retail, and health and fitness clients.
"We couldn't be happier to work with Weejee's fun, innovative staff," said Jo-Anne Chase, vice president of Bolt Enterprises and general manager of Bolt PR's Raleigh office. "Bolt's experience with technology and B2B clients is right in line with Weejee and will allow us to drive the maximum exposure and understanding of its unique perspective on learning. We're thrilled to be a part of the team and look forward to helping Weejee surpass its goals."
About Weejee Learning
WeejeeLearning, LLC is a Durham, N.C.-based custom learning design and development company providing enterprise-wide e-learning solutions to corporations, NGOs, associations and nonprofits. Weejee focuses on making learning fun and more effective by combining the latest technologies and techniques with a high degree of creativity. Weejee optimizes the success of learning and training programs through highly interactive e-learning, instructional design, mobile learning and strategies for social learning and collaboration. For more information, visit http://weejeelearning.com.
About Bolt Public Relations:
Founded in January 2007, Bolt Public Relations, a division of Bolt Enterprises, Inc., is an award-winning public relations, marketing and social media management agency with offices in Irvine, Calif., and Raleigh, N.C. Providing revenue-generating exposure, credibility and attention in the marketplace, Bolt PR's clients represent a wide range of industries, including technology, retail, health and fitness, consumer products, fashion and beauty, restaurants and hospitality, education and nonprofit. The agency's core services include media relations and press coverage, social media and web traffic strategy, event planning and publicity, community relations and grassroots marketing campaigns. For more information, visit http://www.boltpr.com.