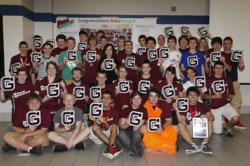 Grandville, MI (PRWEB) May 31, 2013
Not all Varsity letters are created equal. While most sports teams at Grandville High school award letters, few students work as hard for those letters as the members of the school's robotics team. These students put more than 1,000 hours into multiple robotics competitions over the course of the school year. Unlike any high school sports team, the Grandville High School RoboDawgs start their season in August and the team is active all the way into June of the following year.
This is the third year that the Robodawgs have awarded Varsity letters, and the team had a record number of letter recipients. Thirty-nine Grandville High School Students earned a Varsity letter this year.
At their May awards dinner, the RoboDawgs also recognized several students and adults for outstanding accomplishments during the 2012-2013 school year. Awards given out, together with the recipients of each, are as follows:
2013 Academic Achievement Award: Tyler Jack-Schilling, Rebecca Licata, Ben Licata
2013 Team Captains
FRC Team 216: Jackson Bargenquast, Teddy Tran
FRC Team 244: Mike Hepfer, Frank Dara
FRC Team 288: Grason Cheydleur, Clark Fischer
2013 Gracious Professionalism Awards:
Alex Courtade
Jacob Norman
Josh Leaver
Austin Senkowski
Ben Licata
Ray Cheydleur
2013 Most Valuable New RoboDawgs
FRC Team 216: Rebecca Licata
FRC Team 244: Vinny Spica, David Vysotskiy
FRC Team 288: Heath Haverdink, Patryk Akhurst
2013 Most Valuable Veteran RoboDawgs: Kyle Brown, Dakota Hamilton, Morrie Cunningham
2013 Most Reliable RoboDawgs: Jason VanOeveren, Annika Rolo, Fred Pokora
2013 Outstanding Adult Mentors:Chuck Parks, Chris Leaver, Bill Pokora, Greg Wilson, Steve Licata, Rosemary Hepfer
2013 Outstanding Auction Volunteers: Barb Brown, Aivars Apsite, Brad Burch
2013 Auction Organizer: Sheryl Cunningham
2013 Master Robotics Engineers: Grason Cheydleur, Mike Hepfer
2013 Spirit of the RoboDawgs: Alex Courtade, Jackie Burch, Steven Aldrich
2013 Sponsor of the Year: Gasper Dara - Villa Pizza
2013 Lifetime Achievement Award: Tom Chicklon
The Grandville High School RoboDawgs have some of the most demanding Varsity letter requirements in the State of Michigan. To receive a High School Letter in Robotics:

The Student must complete the full year on the team, during which they have not been suspended for any reason
The Student must participate in at least 80% of team practice sessions during the year
The Student must participate in at least three FRC tournaments and have a meaningful role at each event
The Student must volunteer at two or more robotics tournaments during the 2012-2013 school year
Based on the number of years they have been on the high school team, the Student must demonstrate the ability to design, construct, and program a range of robot systems. (To receive a letter in their first year, a student must be proficient in one of these areas. In order to receive a Letter in their second and third years, they must demonstrate proficiency in one additional system per year. To receive a Letter in their fourth year, they must be proficient in all the following areas)
Motors, transmission and drive train
Electrical systems, from power source to motors and sensors
Digital and analog sensors
Pneumatic systems, from compressors to valves to actuators
Vision systems
The Student must participate in and successfully complete the fall robotics event (currently an autonomous boat race)
The Student must demonstrate knowledge of safety principles related to the use of tools and robot operation
The Student must have served as a mentor for a middle school or elementary Lego or VEX robotics team during the season
All Students in their Senior year must research and report on scholarships available at two universities where they will apply
2013 Varsity Letters were awarded to the following Grandville High School students:
Steven Aldrich
Jackson Bargenquast
Brandon Blue
Kyle Brown
Lucas Buck
Jackie Burch
Grason Cheydleur
Alex Courtade
Morrie Cunningham
Frank Dara
Clark Fischer
Desiree Foreman
Mitchell Goodyke
Mak Haas
Dakota Hamilton
Heath Haverdink
Michael Hepfer
Jordan Holt
Josh Leaver
Ben Licata
Rebecca Licata
Jake Noorman
David Parks
Nick Parks
Giovanny Pena
Karen Perea
Fred Pokora
Sophie Potter
Annika Rolo
Austin Senkowski
Raghav Sharma
Tyler Simonte
Vincent Spica
Stephen Stoffer
Teddy Tran
Sarah Trumbull
Jason Van Oeveren
Anthony Van Overen
Brittany VanTuinen