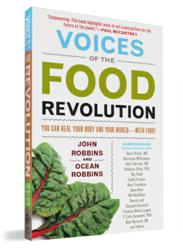 "In a world where pesticide and chemical-contaminated, genetically engineered, highly processed pseudo-food can be considered normal, choosing real, healthy, sustainable food can be a revolutionary act."
Ocean Robbins
(PRWEB) May 31, 2013
It seems like every week there's some new breakthrough diet gimmick. Everyone's got an opinion, and thousands of would-be diet gurus are selling their particular brand of hope. You can find people who tell you to eat no carbs, or no fat, or nothing but watermelon seeds and Snickers before noon.
But through it all, Americans keep getting fatter and sicker. Rates of diabetes, obesity, and chronic illness are higher than ever. Families, companies, and the entire economy are buckling under the strain of medical costs that are rising at an alarming rate.
Into this crisis come 21 genuine experts who have spent decades studying the scientific data and applying it with real people. Their conclusion? You can radically transform your health, and make a powerful contribution to the world, with simple, scientifically proven steps. According to these experts, the data is in, it's compelling and it's conclusive: you can prevent and even reverse heart disease, diabetes, Alzheimers, and many forms of cancer. You can help stop climate change, and even build a more healthy and compassionate world. And it all starts with the food on your plate.
In Voices of the Food Revolution, bestselling author John Robbins joins with his son and colleague Ocean Robbins to bring you 21 gamechanging conversations with some of the world's leading scientists, doctors, teachers, farmers, economists, and nutritionists. Here, in one easy to read book, is the distilled wisdom from some of the greatest minds and most brilliant food leaders of our times.
Featured experts include bestselling authors like Dr. Joel Fuhrman, Dr. Dean Ornish, Bill McKibben, Rory Freedman, Dr. Vandana Shiva, Frances Moore Lappe', Kathy Freston, Dr. Neal Barnard, Marianne Williamson, Dr. T. Colin Campbell, Dr. Caldwell Esselstyn, Gene Baur and more.
These voices of the food revolution have transformed the lives of millions. Their works are wide-ranging, and include undercover exposes of what really goes on in factory farms, projects to get wholesome food to the poor, and breakthrough research on successfully treating obesity, diabetes, cancer, and heart disease through nutrient-rich diets. Together they make one rallying cry: for a healthy, sustainable, humane, and delicious food revolution. And then they give you tips and resources to make it easy to do the right thing for your body, your family, and your planet.
Some of the facts revealed in this book may startle you. For example:

If you don't count French fries, ketchup or pizza as vegetables, more than half of Americans eat no vegetables at all.
The average physician receives only 24 hours of nutritional education in all their years of medical school. Most doctors are trained to treat disease — not to promote health. After you read this book, the authors declare, you might know more about the foundation of health than your doctor does!
Diabetes, heart disease, and some forms of cancer can be prevented and even reversed with the right food choices.
A healthy diet can slow the ageing process, and even increase virility!
Cows raised for meat are impacting our climate more than cars.
More than 70% of the foods you eat in restaurants and buy at supermarkets contain genetically engineered ingredients, and some scientists have linked these ingredients to toxic and allergic reactions in people; sickness, sterility, and fatalities in livestock; and damage to virtually every organ studied in lab animals.
Yes, it really is possible to be a positive food revolutionary without coming across like a self-righteous nag.
Released June 1, Voices of the Food Revolution is a potent and provocative ticket to thriving health and a more vibrant world.
About The Authors
John Robbins could have inherited the Baskin-Robbins empire. But he walked away from the money and the power. Why? He didn't want to devote his life to selling ice cream after realizing it makes people unhealthy. So he decided to make a change. Over the last 25 years, his books about healthy eating and healthy living (including bestsellers Diet for a New America and The Food Revolution) have sold millions of copies and been translated into more than 30 languages.
Instead of getting back into the ice cream business, John's son and colleague, Ocean Robbins, founded a non-profit organization in his teen years that has galvanized leaders in 65+ nations. Ocean has spoken in person to more than 200,000 people, and he and his father are co-founders of the 100,000+ member Food Revolution Network. John and Ocean Robbins are co-authors of Voices of the Food Revolution: You Can Heal Your Body And Your World With Food! (published June 1, 2013, by Conari Press).
For more info, visit http://www.foodrevolution.org/getvoices