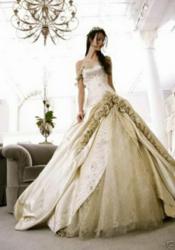 Thdress.com Introduces Its New Princess Wedding Dresses Collection
(PRWEB) May 31, 2013
Lately, Thdress.com, a Chinese large-scale online shopping store, is proud to announce its new collection of princess wedding dresses, there are 16 products in this new collection.
Last month, Thdress.com introduced its princess wedding dresses promotion to thank for the support of the customer. Today, the company released its new styles of princess wedding dresses.
Princess wedding dresses are very fashion and beautiful. This style is suitable for many people, including women, children and girls. If you are a slim woman, you can choose high waist design, because the high waist design will lengthen the leg line. If you are a plump woman, you can choose the deep neckline or V-shaped collar, because this kind of design would make the neck look more slender. Now, you can find the most suitable wedding dress from Thdress.com.
One of customers from Germany, said, "I was worrying about the wedding dresses and others these days. Wedding dresses, bridesmaid dresses, wedding shoes, flower girl dresses, and more. Each one is necessary. I am an old customer here, and the quality of princess wedding dresses is very good. I'll certainly be getting the dresses from Thdress.com, thanks very much!"
Furthermore, Thdress.com is offering more than 1000 different styles of bridal dresses, such as beach wedding dresses, a line wedding dresses, vintage wedding dresses, celebrity wedding dresses, and more.
About Thdress.com
Established in 2009, Thdress is a manufacturer specialized in the development and production of women's clothing. All of our products comply with international quality standards and are greatly appreciated in a variety of different markets throughout the world.
View more information, please visit http://www.thdress.com/.