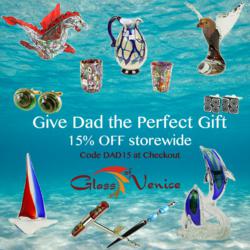 Men are notoriously hard to shop for and finding the perfect gift that will be treasured for years is always a challenge. Murano Glass is a great answer offering a perfect mix of style, sentimental value, and usefulness that any man would appreciate
Glen Rock, NJ (PRWEB) May 31, 2013
GlassOfVenice.com offers its customers an amazing choice of unique handcrafted Murano Glass pieces straight from the furnaces of talented glass masters in Venice, Italy. This Father's Day the Company recommends a fine selection of Murano Glass gifts for men of all ages and tastes at 15% off regular prices.
The company's spokesman shares: "Men are notoriously hard to shop for and finding the perfect gift that will be remembered and treasured for years is always a challenge. Murano Glass is a great answer offering a perfect mix of style, sentimental value, and usefulness that any man would appreciate." Over the centuries, Murano Glass has been sought-after and valued by the rich and famous and regular folk alike for its exceptional handcrafted quality, artistic appeal, and gorgeous look. With its millennia-long history, artisanal style and unique Venetian heritage, Murano Glass has eternal appeal and goes beyond the fleeting moment to show fathers the depth and permanence of our feelings.
GlassOfVenice has various gift options for different types of personalities. For the men who like high quality unique handcrafted accessories GlassOfVenice's cufflinks, keychains, and letter knives make great gift choices. For the men with an eye for décor and passion for the outdoors there are Murano Glass fish, marine and animal figurines and sculptures, including boats, pelicans, eagles, sharks, elephants, horses, dragons and more. For those who enjoy a drink with friends or like to entertain there are stylish shot glasses, tumblers and decanters, bottle stoppers, corkscrews and serving pieces made in a range of signature Murano Glass techniques.
When you give a man a gift of Murano Glass you give him a piece of ancient art that he would surely appreciate. He would also appreciate that the process of making Murano glass is very physically demanding and masculine in nature, and the glassworks tradition is family-based and spans generations. From the raving fire in the furnace melting the glass mixture to the hard work of shaping each piece by hand in the heat with only basic tools, this is the art that has been created mainly by men and the skill passed down from father to son for generations. The glass master's work requires endurance, strength, skills and passion, all quintessential masculine qualities, which breathe life into every Murano glass piece and make it unique and special. The beauty and history of Murano Glass along with special family-based and father-centric context of this ancient art makes a pair of Murano Glass cufflinks, sculpture, keychain or bottle stopper an ideal gift for Father's day.
About GlassOfVenice
GlassOfVenice is a U.S.-based company focusing solely on direct import and worldwide distribution of authentic Murano Glass. The company was founded by visionary businessmen with passion for Italy and Venice and appreciation of Venetian artistic heritage, which today can be best seen in its famous Murano Glass. GlassOfVenice imports all its products directly from Venice and offers the full range of Murano Glass produced by the Island's artisans from jewelry and accessories to tableware and home décor, including vases, sculptures, and chandeliers. The products can be purchased on the company's full-featured and user-friendly website http://www.GlassOfVenice.com. Paypal and all major credit cards are accepted and worldwide shipping is available from the U.S.-based warehouse.