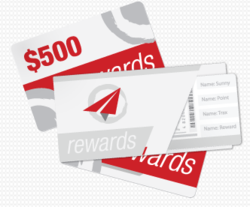 Plainview, NY (PRWEB) May 31, 2013
Pointrax Rewards is happy to announce Groupon as the newest of 50+ featured partner brands and retailers promoted on the site. As a result of this new partnership, Pointrax members can shop Groupon deals through the Pointrax Rewards and earn 2 Pointrax miles per dollar spent on Groupon local deals. For Members who are current Groupon users, the choice is obvious: shop through Pointrax for Groupon deals and earn miles towards free gifts and giveaways while cashing in on Groupon's high-value deals.
First-time Pointrax members receive an 1000 mile bonus for signing up, as well as a complimentary $25 hotel gift card on their first transaction. Membership is free.