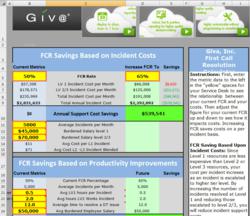 Santa Clara, California (PRWEB) May 31, 2013
Cloud vendor, Giva®, today announced a first call resolution excel calculator tool to measure and forecast cost savings attributable to increases in first call resolution of IT help desks and customer service organizations.
As first call resolution(FCR) improves, the overall cost of providing support decreases. Industry analysts estimate the mean cost to resolve a service request on level one to be about $32. The mean cost to resolve an escalated service request is about $60. In an environment averaging 4000 calls per month, improving FCR from 50% to 75% reduces the number of service requests requiring escalation by 1000 per month. The total cost to support those service requests is commensurately reduced yielding an estimated savings of $28,000 per month, based on the averages.
Giva's first call resolution excel calculator tool allows CIOs and VPs of Customer Service to accurately forecast the cost benefits of programs to increase first call resolution such as using a knowledge base, investing in level 1 training, hiring more skilled level 1 personnel, etc.
Click to download First Call Resolution Excel Tool
The direct benefit of improved FCR is significant cost savings. Although hard to quantify, the indirect benefits are equally compelling:

Mean time to resolution is decreased, improving end-user productivity
Customer satisfaction increases
•Up-tier resources can concentrate on higher level tasks, optimizing system performance and speeding other projects to ROI and completion

Job satisfaction improves for both Level 1 and Level 2 engineers
Relations between teams improve
Level 1 credibility builds, increasing utilization and opening the door for additional FCR opportunities
This holistic set of benefits leads to improvement across all of the quadrants of the Balanced Scorecard, greatly increasing the likelihood of real value and retained benefit.
Giva's cloud solution significantly benefits information technology and customer service organizations which like to focus on increasing first contact resolution, increasing customer satisfaction, decreasing call volume with root cause analysis and exceeding service level agreements (SLAs). Giva reports feature full color, high contrast charts and graphs that allow for more graphically driven data presentation to better understand relationships between all the data.
Learn more about Giva by taking a tour of Giva eHelpDesk or sign-up for a 30 day trial of Giva.
About Giva:
Founded in 1999, Giva was among the first to provide a suite of help desk and customer service/call center applications architected for the cloud. Now, with hundreds of customer driven releases, the Giva Service Management™ Suite delivers an intuitive, easy-to-use design that can be deployed in just days and requires only one hour of training. Giva's robust, fast and painless reporting/analytics/KPIs quickly measure team productivity, responsiveness and customer satisfaction resulting in faster and higher quality decision-making. Customization and configuration are all point and click with no programming or consultants required to deliver a substantially lower total cost of ownership. Giva is a private company headquartered in Santa Clara, California serving delighted customers worldwide.
PR contact:
Email: pr(at)givainc(dot)com
Phone: 408.260.9000
Giva is a registered trademark of Giva, Inc. Other company and product names may be trademarks of their respective owners.