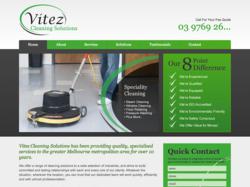 Frankston, Australia (PRWEB) May 31, 2013
True Blue Websites are proud to announce the launch of a new website for Vitez Cleaning Solutions, a cleaning services company based in Dandenong, Victoria.
The Challenge
Owner Mario approached True Blue Websites with the challenge of creating a site that would position his company as a trusted provider of cleaning services, focusing on the corporate and commercial market.
With 10 years experience, and number of close relationships with existing clients, Mario wanted to grow his customer base to include more recurring contracts and larger clients. He wanted to punch above his weight and grow the business.
With a bunch of effective strategies in their back pocket, True Blue Websites took on the challenge to produce a website that would promote trust, reliability and the Vitez approach.
The True Blue Strategy
True Blue Websites provided a complete solution including in-house design, development and copywriting of the entire site. The core aim of this design was to ensure users understood Vitez Cleaning Solutions' customer-focused philosophy, product range and points of difference.
The design incorporated the company's logo and branding throughout. The crisp lines give a clean, professional and corporate feel. Professional photography, feature boxes and a quick contact form all give the user easy access to the most important aspects of the site.
The content strategy focused on highlighting what the company offers in relation to their competitors, and aimed to answer the most important concerns that potential clients may have when choosing a cleaning company.
The Results
The new site presents Vitez Cleaning Solutions as experienced, trustworthy cleaning service providers with a range of offerings tailored to variety of industries. The home page highlights an "8-Point Difference", which succinctly lays out why a potential customer should choose Vitez.
The company is now well positioned in relation to its competitors. The new website projects the right image for the business into the future. We can't wait to hear about increased sales for Mario and his team.
Is Your Website True Blue?
How does your website reflect on your business? Can your customers find it easily? Maybe it's time your business stepped it up a notch too.
True Blue Websites are the leading web design and online marketing company covering The Mornington Peninsula and Greater Frankston area.
For assistance with your website or online marketing contact True Blue Websites on 03 9784 9500.