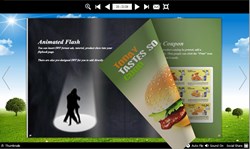 (PRWEB) May 31, 2013
Recently, 3DPageflip.com, a well-known software house, has announced that it is offering heavy discounts on its flip page software. This offer, as stated by a representative for the company, is valid for a limited time only.
3DPageflip.com aims to provide high customer satisfaction by supplying the finest digital printing solutions. Flipbook software is the best so far in the market. Realtime 3D book is the distinguished characteristic of this software. Another plus point is that it is not restricted to specific types of file formats. PDF files, Microsoft Office formats of Word, PowerPoint and images all are supported by this software. With its page flip software, the company stands out from the rest of the software house in the market. Its software, now available at cheap rates, has 3D effects enabled in it; with this feature, 3D animations and graphics can be added to the flipping books.
This website considerably quenches the thirst of a client looking for error-free and perfect digital work. The 3D effects are the most highlighting quality of this flash flipbook software. 3DPageFlip is the master of digital mass communication.
Time is money! The more efficient the product is the more it becomes attractive to a buyer. Similar is the case with 3Dpageflip.com which saves ones precious time due to its various distinct features and easy going interface.
Digital world of mass communication is no longer complicated now. The credit goes to this outclass software which can create specialized flip books which can be printed and published in the virtual world. Creating all sorts of advertising material in any form, magazines and newspaper is not a big deal now just because of this incredible software.
3DPageFlip Software Co., Ltd is China based software Development Company, launched in the year 2008. Its specialty resides in providing professional flip book software tools.
More information can be found at http://www.3dpageflip.com/