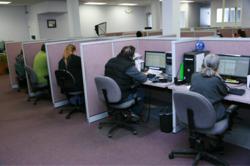 Sound Telecom provides their services to an under served part of the United States call center and outsourcing market
Seattle, Washington (PRWEB) May 31, 2013
Today Sound Telecom, a Seattle-based provider of domestic USA contact center support services, completed an agreement with Golden Gate BPO of Weston, Florida to generate new contact center business. "We turned to Golden Gate because of their proven track record and quality and depth of high-level connections within the contact center industry," states Sound Telecom owner and founder Michael LaBaw. He continues, "I was impressed that Golden Gate BPO is built on a premise of being the best and most complete consultative outsourcing resource for its clients."
Sound Telecom has aggressive expansion planned for 2013 and 2014 and determined that an outsourced model of business development would be the best way to achieve sales goals rapidly. "Before we even inked a deal with Golden Gate, they were putting us in front of promising prospects," adds Mr. LaBaw. "I was pleasantly surprised by how quickly they moved!"
Sound Telecom fills a void in Golden Gate's outsourcing resources by offering certain contact center solutions to a segment of the market that could benefit greatly. "We are absolutely thrilled to begin working with Sound Telecom and their team," stated Stephen Ferber, Managing Partner of Golden Gate BPO Solutions. "Sound Telecom provides their services to an underserved part of the United States call center and outsourcing market. They are committed to delivering high quality and niche-oriented multichannel contact center services for small and medium sized companies, and not just when these companies reach a large scale that other outsourced providers find attractive. With that approach and excellent execution, they continue to earn the loyalty of their clients over the long haul."
Sound Telecom offers high-performance shared and dedicated agent contact center support models. Sound Telecom leverages their extensive 27-year telephone answering service experience to produce lean, agile and responsive contact center solutions. John Dubay, Sound Telecom's Director of Operations states, "Sound Telecom really is quite different. We work hard to provide a unique support niche in the contact center industry. Our support model is very desirable. Our entire team is very happy to have Golden Gate's involvement in our growth."
Sound Telecom maintains three call center facilities and recently opened a bilingual call center in Westminster, Colorado. The company has plans to open additional sites in the Central and Eastern Time zones of the USA. "Our purpose in aligning our business development with Golden Gate is clear –We intend to create meaningful and productive jobs for people who really want them," says Michael LaBaw. "After helping so many other businesses grow by providing professional outsourced call center support and customer service branding for more than 27 years," continues Mr. LaBaw, "I find it very fitting that we leverage the concept of outsourced sales development to reach our own goals while simultaneously helping the communities that we serve."
About Sound Telecom
Sound Telecom, a leading nationwide provider of 24-hour Telephone Answering Services, Contact Center Solutions and Cloud-based Phone Systems professionally serves customers with USA based agents. The twenty-seven year old company has offices in Seattle and Spokane, Washington and Denver, Colorado. For more information, please visit http://www.sound-tele.com.
About Golden Gate BPO
Golden Gate BPO Solutions provides outsourced contact center and CRM solutions, consulting and VMO Services; built on the premise of servicing their clients' business and operational needs while meeting their economic and strategic objectives in the highest quality manner. The GGBPO Team offers a tenured perspective earned from prior experience in managing small, medium-sized and large US-based and global call centers servicing over 2 Billion+ customers. For more information, please visit http://www.goldengatebpo.com.
Contact Information
Sound Telecom
Michael L. LaBaw, President
800-577-1550
http://www.sound-tele.com