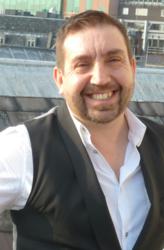 Who would you rather work with - a Stranger or a Pal?
London, UK (PRWEB UK) 31 May 2013
A recent report by HR consultants to the financial sector Robert Half suggests that at least eight out of ten finance directors question the trustworthiness of LinkedIn profiles. Is LinkedIn reaching the end of its usefulness to recruiters and job hunters alike? Have we reached Peak LinkedIn?
"It is interesting that LinkedIn's terms and conditions actually state that they take no responsibility for any claims its users make on their profiles," says Superstars founder Steve Hutson.
"What does this mean? I believe it means we now have 200 million strangers on a great portal, but one that allows their tools to sell the Talent to whoever they want, whenever they want," Hutson continues, "You cannot deny the success of it, but I have had clients say too that it is too complicated to find anyone. Talent also find it hard to connect to others. It lacks a human element."
Superstars makes use of LinkedIn and encourages Talent to use it too, but it is just one tool among many. Much more important is Superstars' policy of meeting and assessing Talent individually.
"Do Superstars use LinkedIn? Of course we do," explains Steve, "but it's just one link on our Talent's profiles, all of whom we have met and assessed."
"They are Talent we have met and know, they are not strangers and we are careful to tell them which clients we work with. They they have a choice if they want to be seen or not by particular clients."
Superstars was founded just under three years ago but has already exceeded its founders' growth expectations. It may not be ready to replace LinkedIn just yet, but Steve does see that it has some definite advantages to simply relying on a social network for your staffing needs.
"Our portal is tiny compared to Linkedin, but has a huge immediate impact to our clients and Talent as the people on our portal are friends, they have known skills and both our Talent and clients love it. Who would you rather work with - a Stranger or a Pal?"
Superstars is based on a unique new staffing model that eliminates fees and margins forever. Clients work with Talent Managers to get the best staff for their needs and the Talent get amazing opportunities and the best support and mentoring in the industry.
Superstars' clients include BSkyB, Orange, Infosys and Radical Company with more being added all the time.
To find out more about Superstars' unique staffing model and how it can transform the way you hire staff, contact Steve Hutson - steve(at)homeofsuperstars(dot)com or visit http://www.homeofsuperstars.com