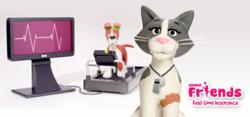 Cutting through the market noise is no small challenge
(PRWEB UK) 31 May 2013
Animal Friends Insurance has launched a brand new TV advert following the continuing adventures of their characters Cracker the dog and Girlie the cat. In line with the ethos of the brand the advert creative focuses on the strap line 'Even the healthiest pets can need urgent care'. The advert, which will be first aired June 3rd 2013 on iTV3, also highlights to consumers the functional policy benefits of pet insurance.
The 40" ad creative, produced by the brand's existing animation agency, Happy Hour Productions, is a heart-warming stop motion feature and a rather different approach from the industry standard.
The art directors, who produced the new and existing series of adverts, have also previously worked on productions such as Shaun the Sheep, Creature Comforts and Animal Planet.
Since January 2012 the brand has seen an average 80% uplift in new policies and more than doubled its market share, largely due to the new ad creative and re-targeted TV campaign. The TV activity will be supported by an integrated campaign including print advertising, social engagement, digital marketing and PR media.
"Cutting through the market noise is no small challenge which is why we really wanted to stand out in the marketplace as a brand. We're over the moon with the campaign results so far as Animal Friends becomes more established as the no.1 pet insurance provider, but we know we can do more and are always looking for new ways to attract new business; and add value for our existing customers" said Chris Newnham, Marketing Manager, Animal Friends Insurance.
For a preview of the new advert visit the Animal Friends you tube channel at http://www.youtube.com/AnimalFriends alternatively view here
Notes to Editor
About Animal Friends
Animal Friends Insurance is a pet insurance company that specialises in providing cover for cats, dogs and horses. They are one of the top five providers (Datamonitor 2013) and are based entirely in the U.K. Animal Friends Insurance is an ethical business that is committed to helping animal welfare charities worldwide by supporting projects and providing grants, donating large amounts of its profits to animal welfare.
Animal Friends is the trading name of Animal Friends Insurance Services Limited, company number 3630812, registered office Animal Friends House, Sunrise Way, Solstice Park, Wiltshire, SP4 7QA. Animal Friends is regulated by the Financial Services Authority, FSA Registration Number: 307858 http://www.animalfriends.co.uk