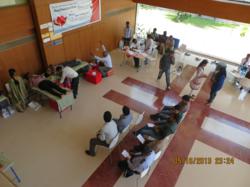 Irving, TX (PRWEB) May 31, 2013
As part of its giving back to the society initiative, Newt Global, India with the support of a leading hospital organized a Blood Donation Drive on 17 May 2013. With its 'Give Blood, Save Life' slogan, the entire Newt Global team came forward to donate blood. Employees from the nearby multi-national companies also participated in big numbers in the blood donation campaign to make it a huge success.
Mr. Satish Goel, Chief Executive Officer of Newt Global, said, "It is our pleasure to contribute to the society in which we live and work". "The recent blood donation drive is just one 'strand' of Newt Global's CSR activities. Making a contribution to our society is central to what we are trying to achieve at Newt Global; of course, we seek domestic and international success, but we want to be admired not only for our business skills, but also the way in which we do business," continued Satish Goel.
Since its founding in 2004, Newt Global has risen as a global leader in IT services and products on a broad range of technologies. It is a two time "Dallas 100 faster growing company" award winner. Newt Global strives to make a constructive contribution to the society through meaningful initiatives. The Blood Donation drive is one such activity under its CSR program which was organized to create a culture of 'giving back'.
On the occasion Mr. Dhirendra Kumar Kamboj, Director-Talent Acquisition of Newt Global said, "We believe that serving our community is not only integral to running a business successfully; it is part of our individual responsibilities as citizens of the world. And after all what can be more noble than saving someone's life?"
About Newt Global Consulting, LLC
Newt Global Consulting is a MBE/WBE/HUB Certified Global IT services company headquartered in Irving, Texas and is a Tier-1 vendor to multiple Fortune-50 clients. They specialize in a range of IT services on a broad range of technologies, mobile development, QA, and program management. Newt Global leadership is committed to staying at the forefront of technology, and has invested in building a mobile development/testing framework and has recurring training programs in both iOS and Android. Learn more at http://www.newtglobal.com.