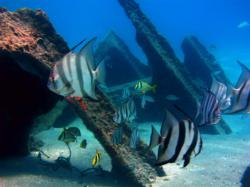 With so much to do in this Village by the Sea guests are invited to "Stay Another Day in Downtown Delray"
Delray Beach, Florida (PRWEB) May 31, 2013
Delray Beach Downtown Development Authority (DDA) invites guests to "Stay another day in Downtown Delray" this summer. Voted the Most Fun Small-town in America by Rand McNally and the USA Today Best of the Road competition, Downtown Delray Beach boasts a summer filled with exciting events and activities for everyone. Visitors will find outstanding arts festivals, delicious dining with al fresco seating, entertaining nightlife, fine art galleries, and an eclectic yet elegant mix of fashionable boutiques, while all of South Florida is within grasp. Each month visitors and trip planners can visit the DDA website to find the latest "Must-Experience" attractions in Downtown Delray Beach.
This summer's special attraction for art enthusiasts is Open Studio Night. Guests seeking art and culture will find it every 3rd Thursday of the month this summer in Downtown Delray Beach at Open Studio Night. From 6 p.m. to 9 p.m., guests will be welcome to stroll the new warehouse arts area in the Pineapple Grove Arts District located between NE 3rd and 4th Streets, east of 3rd Avenue and west of the railroad tracks. Boasting over 30 art galleries, hundreds of creative artists, art districts, historic and cultural museums, theaters and more, Downtown Delray Beach offers something for everyone.
In addition to great art, the DDA encourages visitors to experience the wonderful tastes of Downtown Delray Beach. Home to over 100 fine dining establishments with award winning chefs, offering fresh seafood, authentic Italian cuisine, farm to table, elaborate wine selections and not to mention an amazing social vibe, Downtown Delray Beach is a must do as a culinary experience. From June to September, enjoy unique summer menus and extended happy hours, "as in Downtown Delray happy is not limited to one hour," expressed Marjorie Ferrer, Exec. Director, DDA.
Adding to this summer's "Must-Experience" list, Delray's Municipal Award-winning Beach offers crystal clear water and a two-mile-long white sandy coastline and fun summer beach activities that singles, couples and families alike can enjoy, including standup paddle boards, kayaks and off-shore snorkeling of the famed Delray Wreck.
An impressive variety of accommodations stretch from the beach to the heart of the downtown and range from luxury to historic to whimsical -- all with a creative, tropical flair. Summer visitors or locals are sure to discover that perfect place to stay while visiting the beautiful "Village by the Sea." Visit http://www.downtowndelraybeach.com/promotions for the full listing and summer specials.
Delray Beach is a place for everyone from local residents and visitors from all over the world. With so much to do in this Village by the Sea guests are invited to "Stay Another Day in Downtown Delray."
QUICK FACTS:

Downtown runs from I-95 to A1A
120 Restaurants & Bars
200 Shops & Boutiques
30 Art Galleries
70 Spas, Salons and Wellness Centers
1000 Hotel Rooms
All the details and contact information are available on the website http://www.downtowndelraybeach.com or our Facebook page http://www.facebook.com/delraydda. Visit the site continuous updates as well as register to receive email updates.
With summer right around the corner, celebrate the pleasures of the Florida lifestyle in vibrant Downtown Delray Beach, South Florida's best-kept secret, both night and day.
About the Downtown Development Authority: For the past 41 years, the Downtown Development Authority has assisted in successfully branding Delray Beach as the Village by the Sea. The Delray Beach DDA was created by Resolution 9-71, which became law on March 22, 1971, as a dependent district of the City of Delray Beach. The DDA Mission is to enhance and stimulate balanced economic growth through position marketing activities that engage Downtown businesses, residents and visitors while creating a clean, safe, physical and experiential place to live, work and invest. The main areas of involvement in downtown redevelopment include: Marketing and Promotions; Economic development programs; Place Making within the DDA boundaries. The DDA also works closely with merchants to develop seasonal retail awareness campaigns to generate traffic and sales and has created a powerful website http://www.downtowndelraybeach.com and facebook.com/delraydda site that attracts thousands of visits weekly.
Contact:
Laura Simon, Downtown Development Authority
85 SE 4th Ave, # 108
Delray Beach, Fl 33483
(561) 243-1077
Lsimon(at)downtowndelraybeach(dot)com
http://www.downtowndelraybeach.com/dda