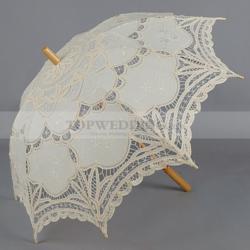 (PRWEB) May 31, 2013
TopWedding.com, a well-known one-stop wedding solution provider, provides thousands of wedding dresses and wedding accessories at its online store. Today, the business launches a special offer on all its wedding accessories.
Now, all TopWedding.com's wedding accessories (wedding parasols, bolero jackets, veils, and more) are offered with great discounts, up to 60% off, before June 16, 2013. Take one of the wedding parasols (called "cotton lace wedding parasol for flower girl white color sun only," model code: SKU HTS130B02) for example: It is offered now at a discounted price of $18.99 only.
TopWedding.com's wedding accessories are made with high quality materials and dedicate craftsmanship, and they are especially designed to enhance the atmosphere of romance at a wedding. Strict quality control has helped TopWedding.com to receive many positive customer reviews, and become a leading brand in the industry.
"We have not just wedding dresses, but also a lot of stylish wedding accessories, which will keep you feeling great at your big day. We are happy to launch the promotion and make our designs and services available to more women worldwide," says, Damian Pang, a spokesman for the company. "Please note that the special offer is for a limited time only, and please visit our online store before June 16, 2013. If you have questions about styles or sizing please feel free to let us know."
About TopWedding.com
TopWedding.com is a premier women's dress provider, devoted to providing trendy bridal gowns, bridal party dresses, groom wear, wedding accessories (wedding veils, wedding boleros jackets, wedding shoes, and more), and wedding accessories to clients worldwide. The company aims to be one of the best one-stop wedding solution providers by offering its clients with high quality wedding products and services on a global scale.