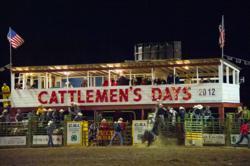 For more than a century, the Gunnison Valley has celebrated its Western way of life with annual demonstrations of roping, racing and riding skills.
(PRWEB) May 31, 2013
Cattlemen's Days not only is making plans for a boot-stomping celebration in Gunnison from July 6 – 14, this granddaddy of Colorado rodeos also continues to be the #1 rodeo in the country for dollars raised for breast cancer and was recognized for being one of five best medium-sized rodeos in the U.S. last year.
PRCA Rodeos
As always, the marquee events for Cattlemen's Days are the rodeos with their thrills, spills and good-natured fun. Kids and adults alike will love the antics of rodeo clowns, cowboys displaying courage and skill on bucking broncos, the pageantry and much more. Plus, there is nothing like sitting in the grandstand and seeing the sun set behind the mountains and taking a spin on a carnival ride under the stars.
Top competitors from throughout the country will on hand the evenings of July 11 – 13 at 7 p.m., with each night having a special theme.

For the Tough Enough To Wear Pink rodeo on July 11, Cattlemen's Days pledges a portion of admissions to the local campaign, and many cowboys wear pink.
Everyone is encouraged to wear red, white and blue or the American flag on their clothing at the Patriot Night rodeo on July 12.
At the July 13 Family Night rodeo, kids 10 and under are admitted free for general seating or $5 for grandstand seating, when accompanied by an adult purchasing a ticket.
Rodeo ticket sales begin on July 5 at the Cattlemen's Days ticket booth located in the Gunnison Bank and Trust parking lot. Tickets also can be purchased at the door for $15 general admission and $20 grandstand seating.
Schedule at a Glance & Tickets
During Cattlemen's Days, catch a glimpse of what it's like to work in tandem with the sheer grace and athleticism of a horse during team roping, barrel racing and horse show events or walk in the shows of cowboys while listening to the musings of cowboy poets. The parade on Gunnison's Main Street is a must-see for families after a tall stack of flapjacks made by the local Kiwanis. Live music and dancing, 4-H exhibits and horse racing are among the many other events that create an action-packed week that celebrates the West.
Cattlemen's Days Kickoff Dinner & Dance (for all ages) – July 6
Gunnison County Fair – July 7 – 13
Open Horse Show – July 8
Cowboy Poetry (at the Gunnison Arts Center on July 8) – July 8 & 9
Tough Enough to Wear Pink Benefit Concert & Auction in Mt. Crested Butte featuring Kellie Pickler, Kyle Jacobs and Dean Dillon – July 9
Watershed Team Roping & Barrel Racing – July 10
Carnival – July 10 – 13
PRCA Rodeos – July 11, 12 & 13
Pioneer Banquet – July 11
Post Rodeo Dance at The Last Chance Saloon – July 11
Live Music & Dancing at the Elks Lodge – July 12 & 13
Kiwanis Pre-Parade Pancake Breakfast – July 13
Parade – July 13
Junior Livestock Auction – July 13
Cowboy Church/FCA Services – July 14
Horse Race Meet – July 14
Unless otherwise indicated, events take place at Fred R. Field Western Heritage Center. For a complete schedule of events, including times and locations, visit http://www.cattlemensdays.com or call (800) 814-8893.
Tough Enough to Wear Pink
There's much larger rodeos around the country, but Cattlemen's Days continues to be the top Tough Enough to Wear Pink fundraiser for local breast cancer awareness, support, screenings and equipment. One of the highlights of the local TETWP calendar is the festival's annual Tough Enough to Wear Pink Concert and Auction on July 9, featuring Nashville singers/songwriters Kellie Pickler, Kyle Jacobs and Dean Dillon. The event starts at 6:15 p.m. and will be held at Lodge at Mountaineer Square in Mt. Crested Butte. Tickets cost $75 and include the concert and light appetizers.
Other Ways to Experience the West – Trail rides, pack trips & guest ranches
For unforgettable guest ranch experiences, visit Waunita Hot Springs Ranch east of Gunnison and Harmel's Ranch Resort near Almont in the Taylor Canyon. To reach Waunita Hot Springs Ranch, call (770) 641-1266 or visit http://www.waunita.com. For Harmel's, call (800) 235-3402 or visit http://www.harmels.com.
Gunnison-based Tenderfoot Outfitters offers authentic trail rides of varying lengths, horseback camping trips, high alpine fishing excursions, tent bed and breakfast trips, youth adventure camps and horse camp hunts. To find out more about all the options, visit http://www.tenderfoot-outfitters.com or call (800) 641-0504.
Fantasy Ranch Horseback Adventures guides numerous types of horseback outings and wilderness trail rides from a few hours to multi-night adventures that depart from its Mt. Crested Butte stable. Fantasy Ranch is well-known for its trail ride from the Crested Butte area to Aspen, and during winter offers horseback rides from its Almont stable. Call (970) 349-5425 or visit http://www.fantasyranchoutfitters.com.
Vacation Packages & Visitor Information
To save on flights, hotel rooms, vacation packages, car rentals and more, call the Gunnison-Crested Butte Tourism Association reservation hotline at (888) 559-0841 or go to http://book.GunnisonCrestedButte.com. For destination information, call (800) 814-8893 or visit http://www.GunnisonCrestedButte.com.
About Gunnison-Crested Butte, Colorado
Nestled in a valley with nearly two million acres of pristine, mountainous wilderness, Gunnison-Crested Butte has a prime location in southwest Colorado. Winter sports enthusiasts know the area for its world-class alpine skiing and snowboarding, cross-country skiing, ice fishing and more. Fair-weather activities include mountain biking, hiking, wildflower and wildlife viewing, climbing, boating, whitewater rafting, kayaking, fly-fishing, camping and horseback riding. Year-round visitors enjoy distinctive restaurants, locally-owned shops, stimulating cultural opportunities and festivals galore ranging from the Crested Butte Wildflower Festival and Gunnison Cattlemen's Days to Crested Butte Bike Week and Gunnison Car Show weekend.
Gunnison-Crested Butte is conveniently located in southwestern Colorado, a scenic 4-hour drive from Denver via U.S. Highway 285 or a 3½ hour drive from Colorado Springs on U.S. Highway 50. Air service to the Gunnison-Crested Butte Regional Airport (GUC) for the 2013 summer/fall season is provided by United Airlines with direct flights from Denver (DEN).
[###]