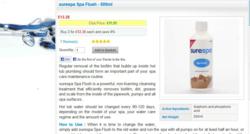 surespa, the latest in hot tub chemicals
Hampshire, UK (PRWEB UK) 31 May 2013
Splash Spas UK Ltd has developed a brand new range of budget water care treatment products designed specifically for the spa/hot tub user to maintain their tub especially in these tough economic times. Called surespa, it's a suite of specially formulated products designed to cater to all aspects of hot tub water treatment and hot tub cleaning available in convenient, safe and attractively labelled safety containers.
surespa will be available for sale through Splash Spas' retail website, http://www.splashspas.co.uk and through its popular online trade website splashspastrade. A dedicated website at surespa is also available for consumers and retailers alike to find out more about the surespa range.
Hot tub owners who are only too familiar with the trials and expense of running a hot tub can at last celebrate thanks to the introduction of a complete range of budget water care, cleaning and accessory products labelled under the 'surespa' brand owned by Splash Spas Limited. The surespa suite consists of a number of unique products that are classified into the following categories:
· Sanitizers – to keep spa water bacteria-free
· Shock & Clarifiers – to improve water clarity and keep it sparkling!
· Balancers – to keep spa water pH and Alkalinity just right
· Cleaners – for cleaning filters, acrylic surfaces, pipework and vinyl covers
· Aromatherapy Crystals – Dead Sea Salt crystals to dissolve in spa water for immediate effect
Andre Knight, a director of Splash Spas, confirmed that the Splash Spas customer service team frequently had requests from both consumers and trade customers for a comprehensive water treatment product that combined low cost and convenience from a single brand. "Surespa will appeal to hot tub owners everywhere," Knight said. "It provides the most comprehensive range of hot tub chemicals at the best possible price."
About Splash Spas Ltd:
Splash Spas was the UK's first online hot tub chemicals and accessories company. Formed in 2004, the company operates out of premises near Alton, Hampshire and is an on-line retailer with over 20,000 customers throughout the UK and Europe. The company is a fully accredited by the renowned Trusted Shops, the European Trustmark for on-line retailers with buyer protection.