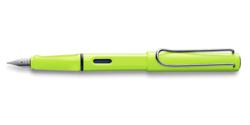 (PRWEB UK) 31 May 2013
Lamy have just launched the Neon limited edition Safari fountain pen. The launch of the limited edition Safari pen has become an annual event over the past five years and for 2013 Lamy have chosen a vibrant neon shade of yellow.
The Lamy Safari pen is the core product in the Lamy family, representing a perfect blend of quality, function and price. The Lamy Safari fountain pen is pitched at the everyday market and is a proven hit with both adults and children. Schools recommend the Lamy Safari pen for its versatility and quality of writing. It is also priced at a level that is affordable for parents who might be faced with needing to replace a lost pen.
Lamy are a German pen manufacturer well known for their modern designs, and for their quality of writing instrument at affordable prices. The Safari pen was originally launched in 1980 and became an instant hit. It has remained the defining pen in the Lamy pen range ever since, along with the top of the range Lamy 2000 fountain pen.
The neon Safari is the latest in a line of limited edition colours that has seen the launch of limited editions in recent years. Last year the colour was apple green, and two years ago saw the launch of the aqua Lamy Safari pen. Prior to this the colour choices were lime green, pink and orange.
Award winning online stationery company Bureau Direct are pleased to announce that they are stocking the new limited edition neon Safari pen and will be featuring this pen heavily throughout the summer. The Safari pen is the best-selling pen in the Lamy range and Bureau Direct offer the Safari in all nib choices from stock, including fine, medium and broad nib widths.