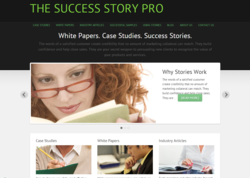 Success stories can more effectively influence prospects than other forms of traditional marketing.
Overland Park, Kansas (PRWEB) May 31, 2013
A new website, TheSuccessStoryPro.com, is helping businesses put some oomph into their marketing efforts.
The website describes how success stories, in the form of case studies, white papers and industry articles, can more effectively influence prospects than other forms of traditional marketing. CEO and principal of the new site, Gina Kellogg, says these types of stories are effective for several reasons.
"They give prospects a chance to see themselves having success with a business's products or services, No. 1," she explained. "That ability allows the product or service to appear as valuable to that reader as it truly is. On the other hand, a brochure or other piece of marketing collateral can only skim the surface in describing the benefits of a business's offerings. Those types of products simply can't get into the nitty gritty of what makes a product or service beneficial to the buyer."
The new website includes sections that detail the differences between white papers and success stories, as well as explaining how you can use your stories for other types of marketing, such as industry articles.
"Trade and business magazines want to publish success stories because their readers consistently tell them that's what they want to read," says Kellogg, a former magazine editor. "I've been in the editor's chair needing quality articles to publish. And it's difficult when your staff is already burdened with the wide variety of editorial responsibilities today, such as not only developing the magazine but also related websites and specialty projects." Kellogg says that when editors are offered quality stories that let readers see new ways to solve problems in their industry, those editors are typically eager to publish them.
"It's a small step to repackage a case study into an article that you can submit to an editor," she says. "You'll get extra mileage out of it and lots more exposure."
The website details other ways that businesses can put their success stories to use, such as in SlideShare presentations, in e-newsletters, on their website and in press releases.
"Once you invest in a case study or white paper, make sure you put it to use," Kellogg advises. "I always encourage clients to consider all the opportunities these papers offer. Pull out quotes to use as testimonials. Include a summary in an annual report or sales presentation. Add a special sidebar on your home page and link to a case study so web visitors can see the value your business offers.
"You have a multitude of ways to use success stories," she adds. "The Success Story Pro website helps businesses take advantage of them."
ABOUT GINA KELLOGG & THE SUCCESS STORY PRO
Gina Kellogg is principal, CEO and owner of The Success Story Pro (Overland Park, Kan.). A former journalist and communications director, Kellogg specializes in helping businesses increase their lead generations and close sales by sharing the details of their customers' success stories. Kellogg interviews companies and their clients to create compelling case studies, white papers and submitted magazine articles. She regularly writes articles on marketing topics such as "3 Reasons Case Studies Are the Superheroes of Marketing" and "When Good Customers Make Bad Case Studies."