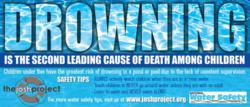 Toledo, OH (PRWEB) May 31, 2013
The Consumer Product Safety Commission (CPSC) released a report stating that children under the age of 5 represent more than 75-percent of all pool and spa submersion deaths. Those children 15-years-old and younger represent 78-percent of pool and spa submersion injuries in the United States, making it critical to promote safe swimming throughout the community.
The CPSC Chairman, Inez Tenebaum, stated, "The lives of countless children can be saved this summer. Take simple safety steps today – teach all children to swim, put a fence around all pools, and always watch children in and around the water."
The Josh Project, a nonprofit organization serving the Toledo area, has a mission to build basic swimming skills and develop knowledge of water safety to save lives. With this, they will be releasing a helpful graphic that will be shared throughout the community explaining simple safety tips. The goal of the image is to help to save children's lives throughout our community. The safety tips included in the graphic are listed below:

ALWAYS actively watch children when they are in or near water.
Teach children to NEVER go around water unless they are with an adult.
Learn to swim and NEVER swim ALONE!
Attorney Charles Boyk, a member of the Josh Project's Board of Directors, believes that this is a very important issue within our community. He believes that by spreading awareness and educating parents and children, we can help to save many lives.