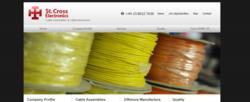 Win, win, win
southampton, UK (PRWEB UK) 31 May 2013
Win, Win, Win
Cars fitted with St Cross Electronics wiring looms have won and come third for the Daytona 500 season opener. Congratulations to Roush Fenway Racing, Matt Kenseth and Greg Biffle. St Cross Electronics have for 3 years been working towards the new EFI introduction for 2012 and what better way to start than with a historic win and third place.
The race was delayed by over 24 hours due to really bad rain, and when it finally did start there were crashes, a jet dryer was hit by another race car which resulted in a 2 hour stop, with the race being stopped with 40 laps to go.
CEO, Dax Ward said "We started to deliver in December and credit goes to our staff of nearly 40 people who have got out nearly 70 complete cable assemblies in less than 6 weeks and also to our partners in Concord, NC. Meticulous planning has gone into this production line with a huge investment in tooling and dedicated test equipment. Credit goes to all the guys at Roush Fenway Racing, what a great start to the season they have had with a pole and a win. I would also like to say a huge well done to all the other teams we supply. I cant wait until next weeks round at Phoenix."
About i5digital Hertfordshire
i5digital is an digital agency and consultancy. We set the strategy, deliver creative solutions for your digital marketing and media needs. We steer companies on their global marketing agendas and train in house SEO experts on the latest processes to communicate effectively with the web. i5digital has offices in Hertfordshire, London, Essex and Hampshire.