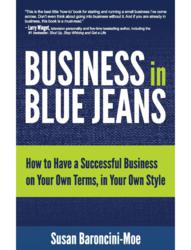 I spent years amassing this knowledge and I'm confident that this book will be useful to people wanting to start and grow their businesses.
Shippensburg, PA (PRWEB) May 31, 2013
The book, Business in Blue Jeans: How to Have a Successful Business on Your Own Terms, in Your Own Style, will be released on June 4, 2013 from Sound Wisdom Publishing.
Business in Blue Jeans, described as a comprehensive guide to business ownership and entrepreneurship, is being published by Sound Wisdom Publishing and is authored by business and marketing strategist Susan Baroncini-Moe.
"I spent years and years amassing this knowledge, and trying out everything in the book- with my own businesses and those of my clients," said Baroncini-Moe, speaking from her home office in Indianapolis, Indiana, "I'm really happy with how the book turned out and am confident that it will be useful to people who want to start and grow businesses. I'm also thrilled that I chose such a supportive, encouraging, publishing partner in Sound Wisdom. They've been with me every step of the way, and I couldn't have asked for a nicer company to work with."
Dave Wildasin of Sound Wisdom Publishing said, "We're delighted to work with authors like Susan, who consistently deliver great content, are great writers, and are committed to making their books a success. We believe in this book."
The book, Business in Blue Jeans, officially comes out on June 4, 2013.
Susan Baroncini-Moe is the author of "Business in Blue Jeans: How to Have a Successful Business on Your Own Terms, in Your Own Style," and is a business and marketing strategist. She regularly speaks to audiences of all sizes, and has shared the stage with business giants like Michael E. Gerber, Larry Winget, Bob Burg, David Meerman Scott, Chris Brogan, and 29 other business and marketing bestselling authors, celebrity entrepreneurs, and thought leaders. Susan and her businesses have been featured in Redbook Magazine, USA Today, Investor's Business Daily, American Express Open Forum, MSNBC, BBC, Time, Reuters US, Reuters UK, Slate.com, People, and Discovery. Susan is a Guinness World Records® recordholder, and she and her husband, Leo, live in Indianapolis, Indiana and travel the globe together. You can find out more about her consulting and training services, as well as her speaking at http://businessinbluejeans.com or http://susanbaroncini-moe.com.
Located in Shippensburg , PA, Sound Wisdom Publishing is a publisher of personal development, business growth, leadership, health, fitness, and finance products. To learn more about Sound Wisdom visit http://www.soundwisdom.com.