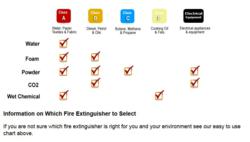 Does your business have sufficient fire extinguishers?
Portsmouth, UK (PRWEB UK) 31 May 2013
All companies have a responsibility to provide the right amount of suppression equipment to cover the risks that they bring to any building. This is not something that a landlord or managing agents have to provide. Even if extinguishers are present in communal areas the tenant is not covered. Fire extinguishers have to be strategically located in highly visible areas and within easy reach. Most offices will cover their wood, paper and textile risks with a water extinguisher or a water plus additive extinguisher. For their live electrical risks a co2 extinguisher will be required. Certain equations are available for how many required but the basics are that as long as these units in close and available proximity covered. Larger premises of course will require more. Fire extinguishers with signs are commonly placed at Main entrances and Fire exits or in corridors where long distances exist between fire points. In certain applications foam extinguishers and wet chemical extinguishers are required and these are more commonly found in kitchens.
So what about the training of staff? The truth remains that although training in the use of extinguishers is fairly simple, the amount of staff that have actually undergone any training is alarmingly and dangerously small. So here is this vital piece of equipment that you have purchased, it could save lives. It is a far too common a situation. Depending on the attitude of a person an argument for having fire extinguishers will resonate in one or more of three ways. Legally of course, fire officers can issue enforcement notices in the case of not having enough suppression equipment. Secondly, companies claiming on their policies for fire damage can find themselves in a whole heap of trouble as loss-adjusters come calling to investigate that a company did everything they could to prevent the spread of the blaze. And thirdly, why bother with all this regulation in the first place? To prevent human tragedy of course. Imagine a worker getting hurt (or worse) in a fire? The boss of the company has a lawsuit against him from an injured employee. Neighbours to the business look to sue for damages for taking no precautions. The Fire service look to prosecute and possibly push for a prison sentence and finally the insurance company inform the boss that the claim has been cancelled because of lack of compliance with the terms of policy. Fire risk assessments are vital for all businesses to stay safe. This has happened. Jail sentences and lost businesses are the cost of gambling in this high stakes game. And for what? Pricing for extinguishers on the website below is as low as anything anywhere and pails to insignificance when stacked up against the protection of a business and human life. Whats the message when all is said and done? Research law and fire safety requirements, get help if necessary, install the equipment you need and make premises and staff and visitors that much safer. WHY TAKE A CHANCE?
About i5digital Hertfordshire
i5digital is an digital agency and consultancy. We set the strategy, deliver creative solutions for your digital marketing and media needs. We steer companies on their global marketing agendas and train in house SEO experts on the latest processes to communicate effectively with the web. i5digital has offices in Hertfordshire, London, Essex and Hampshire.