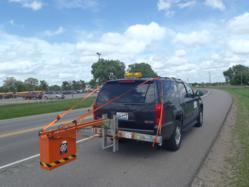 Arlington, MA (PRWEB) May 31, 2013
Infrasense, Inc. Is currently conducting projects using highway speed ground penetrating radar (GPR) to nondestructively detect pavement thickness and subsurface conditions. Over the past two weeks, Infrasense engineers have collected data from pavement sites in Virginia, Minnesota, and Iowa, and have been analyzing the data to quickly and accurately provide the clients with thickness and condition data. In Minnesota, 150 lane-miles of pavement in the highly trafficked Metro area have been surveyed with no lane closures or traffic disruption. The thickness data from this survey will supplement falling weight deflectometer (FWD) testing that has been performed on the same sections of pavement. Using the same setup, supplemented with ultrasonic Impact Echo and Impulse Response methods, Infrasense has surveyed several miles of residential streets in Iowa to detect the pavement thickness and to locate potential voids beneath the pavement. These potential voids can cause roadway settlement and damage, and lead to unsafe driving conditions.
Infrasense has played a key role in the development and implementation of GPR for pavement assessments over the past 26 years. Currently, the most common application of this state-of-the-art technology is the determination of pavement layer thickness because, unlike traditional coring, GPR requires no lane closures and provides a timely and cost-effective means of collecting continuous thickness data. This data may be used for network-level pavement management, project-level rehabilitation design, or quality assurance of newly constructed pavements. Infrasense surveys have covered over 10,000 lane miles of pavement. Projects range in size from our recent project in Alaska to a survey of 3,500 miles for the Oklahoma Department of Transportation.
At the network level, GPR can provide layer structure data used to identify homogeneous sections and to compute the remaining life of segments of the network. Computation of remaining life enables highway agencies to optimize their programming and planning of pavement rehabilitation. A number of agencies have implemented GPR at the network level, including the California Department of Transportation (CalTrans) and the Oklahoma DOT.
At the project level, GPR data provides information that enables owner agencies and consultants optimize rehabilitation design by providing accurate information on the current pavement structure. GPR data is also used to implement pavement recycling by providing details on the thickness of the bound material and how it varies over the project length.
Many GPR pavement thickness studies focus on supporting FWD operations. Pavement strength evaluations using a Falling Weight Deflectometer (FWD) provide useful data to pavement engineers for estimating remaining life and planning rehabilitation. Accurate pavement layer thickness data enhances FWD pavement strength evaluations, since thickness data is required for calculation of the pavement moduli. Thus, the availability of GPR data can provide a better estimate of the remaining life of a particular pavement and can enable more accurate planning decisions.
Layer thickness estimates are also useful for quality assurance/quality control (QA/QC) for construction of new pavements and overlays. GPR can provide a faster, nondestructive and more complete means of obtaining QA/QC data then coring. Inadequate layer thickness can be quickly identified, and construction pay factors may be determined.
About Infrasense, Inc.
Since 1987, Infrasense, Inc. has applied the most current technologies to the most difficult challenges in subsurface scanning. Infrasense's engineers are able to nondestructively extract critical information from a diverse range of structures. The firm has conducted research to advance the field of subsurface detection, while also providing valuable information to clients across the country. Learn more about Infrasense, Inc. and its services at http://www.infrasense.com.