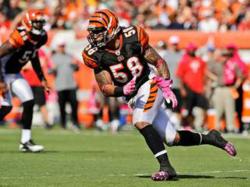 (PRWEB) May 31, 2013
In 2012 the Cincinnati Bengals went 10-6 and made it to the NFL playoffs for the second consecutive year. If you are looking to find out how the Bengals might do this year, check it out:
In week 5 the Bengals will face the mighty New England Patriots. The Bengals have not won a game against the Patriots since 2001, so this just might be the year. To win, they will have to prevent Tom Brady from scoring, and their offense is going to have to score a lot of points themselves. You can bet the Bengals will be coming out hungry for that win. In week 10 the Bengals will play the reining Super Bowl champions the Baltimore Ravens. Although the Ravens did a lot of roster rearranging in the off-season, they still will be stronger than ever. This game will be played away, and it will be a very impressive victory if the Bengals can pull it off. The Bengals will travel to Indianapolis in week 14 and meet the Colts. Despite the Colts' successful 2012 season, the team is still a work in progress. This may very well be a close game, and a very exciting one at that. Go to http://www.Bengals-Tickets.org to make sure you purchase your tickets to this game, and many others.
As the Bengals did have a fantastic season in 2012, their new 2013 draft picks should help them go even further in 2013. In the first round of the draft the Bengals selected Tyler Eifert, a tight end from Notre Dame. Eifert is 6'6" and can catch just about anything that comes his way. With this selection the Bengals offense just got that much better. In round two the team picked up Giovani Bernard, a running back from North Carolina. It is possible that the Bengals will have a franchise running back out of Bernard. Stay tuned at http://www.Bengals-Tickets.org to find out. Also on our site you can find more than just Bengals tickets and news. The site offers a fast checkout process, no service fees, and a social media fan hub, all for your convenience! Stay connected with friends and other fans via our Facebook, Twitter, and GooglePlus pages, and you'll never go a day with out the Bengals!