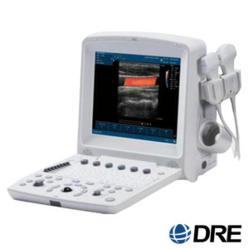 Louisville, Ky. (PRWEB) May 31, 2013
DRE—a premier medical and surgical equipment provider—just launched its Crystal 4P Advanced Portable Ultrasound System with high-resolution, full-color imaging capabilities in a compact, user-friendly package.
The Crystal 4P ultrasound system is the newest addition to DRE's already extensive ultrasound offerings. This is an affordable new option that can extend budgets over older, refurbished models from other manufacturers.
This advanced portable system offers sharp image acquisition with color flow, pulse wave and power doppler for diagnostic confidence and improved patient outcomes. The Crystal 4P has a 12" LCD display, built-in lithium ion extended battery and built-in software options.
The DRE Crystal 4P can be used for a variety of specialties including, but not limited to: Family Practices; OB/GYN; Cardiology; Orthopedics; Urology; Surgery; Vascular Assessments; Internal Medicine; and Nephrology.
Key features include:

Lightweight design for excellent mobility
High resolution LCD screen
Easy to use, versatile design for use in multiple specialties
Pre-programmed exam presets with custom setting capability
Multi-frequency broadband transducer selection
About DRE, Inc.
Founded in 1984, DRE, Inc. is a premier medical and surgical equipment supplier that provides a combination of new and professionally refurbished or used medical equipment to industry professionals around the globe. DRE offers value to doctors by providing the features and reliability they need while still fitting within their budget. DRE, Inc. is headquartered in Louisville, Ky.