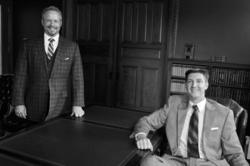 Attorneys will be available 24/7 to answer phone calls and to respond to emails sent through the website. The attorney will answer legal questions related to personal injury free of charge
Minneapolis, MN (PRWEB) May 31, 2013
The Minnesota Law Firm McSweeney / Langevin recently launched 612-ASK-DAVE - 612-275-3283- a hotline for individuals and families seeking legal advice from a Minnesota personal injury attorney. In addition, McSweeney / Langevin recently launched the website 612ASKDAVE.com for accident victims considering hiring an experienced Minnesota personal injury attorney. "Attorneys will be available 24/7 to answer phone calls and to respond to emails sent through the website. The attorney will answer legal questions related to personal injury free of charge," says attorney Dave Langevin.
The firm handles a broad variety of Minnesota personal injury claims: car accidents, motorcycle accidents, truck accidents, work place injuries, catastrophic injury claims, wrongful death claims, and medical malpractice claims.
According to Langevin, the firm handles all of their personal injury cases on a contingent fee basis, meaning the law firm only gets paid when the client gets paid. "We make sure individuals and families are adequately compensated for medical bills and pain and suffering. In fact, our law firm is a member of the Million Dollar and Multi-Million Advocates Forum. The Multi-Million Dollar Advocates Forum (which includes the Million Dollar Advocates Forum) is one of the most prestigious groups of trial lawyers in the United States. Membership is limited to attorneys who have won million and multi-million dollar verdicts and settlements," says Langevin.
Minnesota personal injury victims and families are urged to contact 612-ASK-DAVE for legal help with a Minnesota personal injury claim. In addition, individuals can learn more about the firm and the firm's attorneys by going to 612ASKDAVE.com.