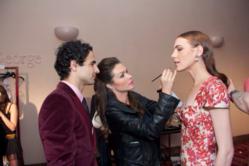 "When styling a fashion show, a stylist should be absolutely clear about the vision of the designer." - Andrea Bonner, Style on Demand
Austin, TX (PRWEB) May 31, 2013
FashionMingle.net, a networking and PR platform for fashion entrepreneurs, is launching "The Blueprint: Building Your Fashion Career", a three-part Google+ Hangout series that will cover topics ranging from participating in your first fashion show, building a successful retail business, and the steps one takes to begin a career as a fashion designer.
Part 1 of "The Blueprint" series, Runway Roadmap: Building Your Styling Team will be held on June 6th at 2:00pm EST, and is an opportunity for fashion designers, wardrobe stylists, makeup artists, and hairstylists to learn the tricks of trade and get insight into building a team that will create the perfect fashion show.
Featured Panelists include noted makeup artist and beauty entrepreneur Jentry Kelley of Jentry Kelley Cosmetics. Jentry began applying makeup professionally at the age of 18 working with lines such as MAC, Bobbi Brown, Laura Mercier, and Chanel. After leaving retail cosmetics, she began providing wedding, photo shoot, and makeup wardrobing services. After just a few months of working on her own, she created her own line of cosmetics. Jentry Kelley Cosmetics is now in retail stores across the country and served as the lead makeup sponsor for Houston's premier fashion event, Fashion Houston, in 2012 working with internationally acclaimed designers such as Zac Posen and Monique Lhuillier. Jentry Kelley Cosmetics can also be purchased on her website.
Also serving as a panelist is wardrobe and fashion show stylist Andrea Bonner of Style on Demand, a Houston based fashion consulting and styling firm. Andrea currently serves as the Regional Director for The Fashion Group International of Houston, Inc. and is an adjunct professor for the Lifestyle Arts and Design Careers department of Houston Community College. She also works as a freelance fashion writer covering Houston, New York and London fashion weeks. Andrea is a graduate of the University of North Texas with a degree in Business Administration.
"When styling a fashion show, the most important thing that a stylist should think about is making sure that she/he is absolutely clear about the vision that the designer or whomever the show is representing wants to project. This may change throughout the planning process, so it is imperative to effectively communicate at the beginning of the process, as well as during and prior to the show." - Andrea Bonner
Learn more about how to participate in "The Blueprint: Building Your Fashion Career" series at FashionMingle.net. Event sponsors include Created Woman and Live Life In Style fashion and lifestyle web sites.
About FashionMingle.net
FashionMingle.net is a network for fashion entrepreneurs to share, discover, and mingle. The online magazine, business directory, and social network creates a platform for fashion entrepreneurs to promote their services and grow their business. The FashionMingle.net networking platform provides fashion entrepreneurs with the network, training, and promotional opportunities needed to be successful in the fashion industry.