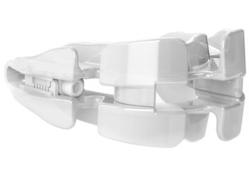 I haven't slept so well in months! My husband said I didn't snore or have any difficulty breathing during the night.
New York, NY (PRWEB) May 31, 2013
It's allergy season, which means runny noses, itchy eyes, scratchy throats – and snoring. If a person is not a regular snorer, they may not know why he or she suddenly start snoring during allergy season. The primary cause of most snoring is an obstructed upper airway, meaning that the soft tissues of the throat or tongue could slacken or collapse, making it difficult for air to pass through freely. Allergies cause inflammation of the upper airway. Just as a person's eyes become puffy, so does their nose and throat. And when the upper airway becomes swollen, normal airflow is obstructed. So, when they go to sleep at night, the soft tissues of in their throat relax and one's airway constricts, causing a person to snore. Snoring can wreak havoc on a person's daily life and it's important for people to learn effective method to stop snoring.
Snoring is more than just an inconvenience. It can have a serious impact on people's health and well-being. Snorers sleep less soundly, and so do their partners. Allergy-sufferers have enough to deal with, without the added dysfunction that results from a lack of sound sleep. Poor sleep has been linked to a decrease in focus, creativity, coordination, productivity, immune system, and libido, as well as to increased weight gain, stress, and depression. Snoring leaves husbands and wives vulnerable to these consequences. Even a few months of sleeplessness can throw a person off kilter!
The good news for seasonal snorers is that VitalSleep Stop Snoring Mouthpiece has a solution!
What is VitalSleep? VitalSleep is FDA cleared and it's a comfortable, customizable mouth piece, that gently adjusts a person's lower jaw slightly forward. This small adjustment opens the upper airway to prevent snoring. It's that simple. The VitalSleep snoring solution has received rave reviews from all over the USA from chronic, lifelong snorers and seasonal allergy-sufferers, alike. Just have a look at their testimonials page. Here's one example:
"I received my VitalSleep snore mouthpiece yesterday and immediately followed the directions to correctly fit it to my mouth. I haven't slept so well in months! My husband said I didn't snore or have any difficulty breathing during the night. I did not have any discomfort in the morning and had more energy throughout the day. I even skipped my allergy meds today and I did not have the usual symptoms of runny nose and watery eyes."
– P. R., Peekskill, NY
Seasonal allergy snorers surely suffer enough. There's no need for them to compound discomfort with snoring. In fact, getting a good night's sleep may help a person combat other allergy symptoms.
How to purchase a VitalSleep: The VitalSleep Stop Snoring Mouthpiece is available at http://www.vitalsleep.com. VitalSleep offers the highest quality product at the lowest price, a 100% money back guarantee, and free replacements for a year, for any reason! Not only that, but VitalSleep employs binding customer safeguards, to ensure customer satisfaction.
Many people suffer enough with your allergies and they shouldn't add snoring to their allergy season misery!