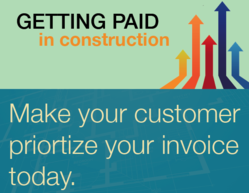 The success rate of these notices is astonishing, especially considering how inexpensive and easy they are to send.
New Orleans, LA (PRWEB) May 31, 2013
Using data from client and industry surveys, zlien has created and published an infographic analyzing the journey of getting paid in the construction industry.
The research unveiled a secret inexpensive weapon to help companies in the industry get paid: the notice of intent to lien document.
"Getting paid in the construction industry is challenging," says Scott Wolfe, zlien's CEO and an attorney experienced with construction and corporate credit law. "In addition to standard A/R aging issues, credit professionals in trade or supply businesses must handle industry specific problems like pay-when-paid clauses, change order disagreements, workmanship disputes, and more."
When faced with an unpaid or aging account companies must review their options. The published infographic outlines what options are available to these companies.
"What's interesting about our review of collection options is how effective one remedy was: the notice of intent to lien," says Seth Smiley, the company's operations officer and a licensed construction attorney.
According to the research, 47% of these documents sent by zlien resulted in payment within 20 days of delivery.
"This success rate is astonishing considering that most companies turn to these notices only as a last resort," says Smiley, "in addition to it being an inexpensive document without any technical legal effect."
A notice of intent to lien is simply a demand for payment that threatens a mechanics lien filing if payment is not made immediately. While it is a required legal notice in nine states, the vast majority of states do not require the notice.
"Just because a state doesn't require this notice doesn't mean you shouldn't send it," says Wolfe. "That is made clear by our research. These documents help companies get paid, regardless of the state's particular requirements."
Companies with unpaid debts can send their notice through zlien for $39.
About Zlien:
Zlien provides software and services to help building supply and construction companies reduce its credit risk and default receivables through the management of mechanics lien and bond claim compliance. Founded by experienced construction attorneys, Zlien is the leading publisher of mechanics lien and bond claim resources and analysis, and has led the industry in innovating credit risk management solutions by utilizing the lien and bond claim laws.