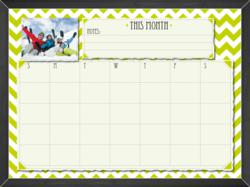 Denver, CO (PRWEB) May 31, 2013
Tailor Made Whiteboards, a leader in home-use dry-erase boards, has added a new line of designs to their whiteboard design catalog. The new designs come in unique styles and colors to match any kitchen, family room, or home decor. And like every design before it, each of the new Tailor Made Whiteboards artwork designs has the option of adding a personal photo to the design to create a personal Whiteboard!
Many of Tailor Made Whiteboards' new designs are in the "textile" category, using patterns like herringbone, houndstooth, and chevron with various colors to make fun and creative designs for their Activity Planners, Chore Boards, and Menu Planners. The textile designs look hand-sewn, and the classic and bright colors will be a stylish addition to any room. Tailor Made Whiteboards has also come out with new black and green chalkboard designs, which look exactly like the real thing but without all of the messy chalk dust!
First choose one of the "Personalized" designs in either the Standard or Super Saver size, and then use the unique Customizer Page to add a personal photo to the design. Create a lasting keepsake by adding family photos, pictures of pets, or a portrait of cherished loved ones to any Tailor Made Whiteboard. At no additional cost, customers can make any of the stylish and functional designs their very own!
Each of the new Tailor Made Whiteboards designs are digitally printed on an artwork graphic panel, which sits behind their one-of-a-kind clear dry erase surface, and is framed beautiful in a high quality wood frame like a piece of art.
Made from a unique clear material that dry erase marker ink cannot penetrate, the Tailor Made Whiteboards dry erase surface will never stain or discolor & satisfaction is GUARANTEED. All Tailor Made Whiteboards are specially designed to continuously and easily wipe writing away and NEVER GHOST! Even permanent marker ink can be easily removed. With a guaranteed-to-clean, stain-free dry erase surface, Tailor Made Whiteboards will never have to replace whiteboards due to staining or discoloration.
To order any of the NEW Tailor Made Whiteboards design, visit http://www.tailormadewhiteboards.com
About Tailor Made Whiteboards:
Tailor Made builds high quality whiteboards designed for wide appeal. Tailor Made Whiteboards are built in the USA and designed to last for many years and through many changes to household routines. Ultimate satisfaction is guaranteed.
Contact:
Tailor Made Whiteboards
Mark Slattery, Public Relations
(888) 280-9494
info(at)tailormadewhiteboards(dot)com