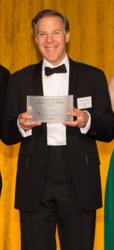 New York, NY (PRWEB) May 31, 2013
The international law firm Greenberg Traurig LLP received the 2013 Chambers USA Award for Excellence in Real Estate at the Chambers and Partners USA Awards Thursday, May 23, 2013 in New York City. The firm also received the award in 2010, and is one of only two firms to win the USA Excellence in Real Estate award twice.
According to Chambers and Partners, publisher of the annual Chambers USA Guide, these awards spotlight firms and individuals who have "excelled above all others in the US legal market over the last 12 months." Additionally, they are based on research conducted for the 2013 Chambers USA Guide and reflect a law firm's recent achievements, which may include, for example, significant new matters handled during the past twelve months, expansion into a particular practice area, or the recruitment of high-profile partners.
"We are thrilled that our Real Estate Practice group received this noteworthy recognition," said Robert Ivanhoe, chair of the firm's Real Estate Practice. "Our team of dedicated attorneys works hard every day to meet client needs in this ever-changing market. This award is a true reflection of our team efforts."
"Exceptional client service is a hallmark of our practice and we look forward to continuing this standard of excellence," said Corey E. Light, co-chair of the firm's Real Estate Practice.
Robert J. Ivanhoe (left), chair of the firm's Real Estate Practice, gives acceptance speech for the 2013 Chambers USA Award for Excellence in Real Estate.
"Real estate is a true cornerstone of this respected firm. Its outstanding nationwide practice is underpinned by a network of highly regarded teams and leading practices in New York, Chicago and in its Florida heartland. Its illustrious client roster includes SL Green, Starwood Capital, Kimco, Invesco and Square Mile Capital. Recent instructions include the $1.1 billion purchase and financing of the Sony Building in New York and the $3.3 billion acquisition of supermarket chains from Supervalu," notes the Chambers and Partners web site about Greenberg Traurig's real estate team.
Greenberg Traurig's Real Estate Practice includes more than 200 real estate lawyers who deliver multidisciplinary legal solutions for property investment, development and management, as well as real estate finance. The practice's client base comprises a broad range of property developers, lenders, investment managers, opportunity funds, Real Estate Investment
Trusts (REITs), and private owners. The attorneys advise clients on a variety of matters involving diverse forms of commercial, recreational and residential real estate.
About Greenberg Traurig, LLP
Greenberg Traurig, LLP is an international, full-service law firm with approximately 1750 attorneys serving clients from 36 offices in the United States, Latin America, Europe, the Middle East and Asia. In the U.S., the firm has more offices than any other among the Top 10 on The National Law Journal's 2012 NLJ 250. For additional information, please visit http://www.gtlaw.com.