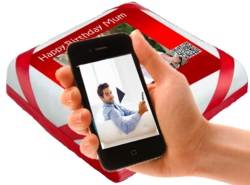 Smart phones and internet are going to change the family birthday cake traditions forever.
London London (PRWEB UK) 31 May 2013
London based cake company, Cakes Next Day, are proud to announce the launch of the Qake, the delicious party treat that has an added surprise for the lucky birthday boy or girl. When scanned with a smartphone, the Qake provides a personal video which is displayed and played instantly.
With an increasing number of people using their smartphone to access the internet, this style of phone is now an integral part of everyday life. Even young children and toddlers are comfortable with modern phones as parents realise the safety, educational and fun benefits that can be gained from using a phone. Whether it is playing games or watching video content to keep children amused, smartphones are a vital part of everyday life.
This is why the Qake is a great way to provide added value with any personal birthday cake or cake for special occasion. Children who cannot read or even elderly relatives who struggle with their vision can benefit from the sights and sounds provided by the video message. Given that the recorded message can be a personal message from friends, family members and loved ones, the Qake provides a perfect way to provide a more personal touch with any special occasion cake.
The technology that Qake utilises is nothing new with QR (Quick Response) codes being initially developed in 1994 in Japan. The initial use of QR codes was to track vehicle parts but today, they are used for all manner of promotional and personal uses. With respect to the Qake, the process is simple.
Users are able to select from a range of personal videos on the company site or they can choose to record their own personal message on their phone. The video can be sent to the company website by phone, email or even uploaded from a computer. Cakes Next Day then use edible link to create a unique QR code that is printed on the cake and when the QR code is scanned by a smartphone with a QR reader (there are many apps that are free to download), the video content will start.
Cakes Next Day, accessible at cakesnextday.com, are able to deliver a Qake nationwide within 24 hours so it makes an ideal last-minute gift too. With more 1 million birthday parties taking place in the UK each and every week, the Qake provides the perfect opportunity to make a party stand out from the crowd.