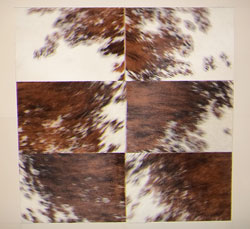 The Blackstock difference lies in sharing our knowledge and working closely with you to find the right solution to your needs.
Stouffville, Ontario Canada (PRWEB) May 31, 2013
Blackstock Leather has the modern versions of residential or contract interior decoration. Creating their new feature, Leather walls of hair on cow hide, Blackstocks Magnetic Leather wall tiles give endless possibilities to the natural pattern of their new Hair on tiles. The tiles can be placed or repositioned to suit the owner's desired look.
Leather walls have literally been with mankind since humans lived in caves for natural shelter. The hides of animals have kept people warm in homes whatever the décor. In those times the skins were likely to be on the floor surfaces, the walls, even the beds. Today, there is an option to surround one's self with new and innovative leather products because it is a beautiful interior surface treatment that evokes the most primal of the senses.
Modern tanning has enabled the ability to create countless types of leather with a boundless color range, inspired from nature itself. Blackstock Leather has created many different leather tiles for home or office décor.
The Silk Road collection tiles, for example, are made from vegetable tanned sole leather that is installed on floors with adhesive or the Magnetic system. For the Silk Road to be used for wall tiles, only the adhesive type is recommended.
When Blackstock began marketing their Tapestry Collection, the possibilities for color leather tiles became endless. The Tapestry Collection tiles are Magnetic Leather Wall tiles that install quickly and without the need for a prepped wood substrate. Any surface that will receive paint can be prepped and decorated with leather tiles in a matter of hours.
Because the Blackstock Leather tiles are created using mineral based tannage leather, the need for acclimation is eliminated. The tiles arrive at the destination and can be installed immediately by virtually anyone. In addition, the tiles can be embossed by special plate dies which impart a pattern to the leather, to give a three dimensional effect adding to the unique character of the tiles.
Blackstock's team, with over 60 years collectively in the industry, enables both contract and residential designers to incorporate beautiful and unique interior leather designs like never before.
Blackstock Leather is located in a 160 year old schoolhouse north of Toronto Canada in the location that was the birthplace of a world renowned leather company started by Charles Manchee in the early 60's.
The tradition of supplying fine leathers for interior design continues. http://www.blackstockleather.com