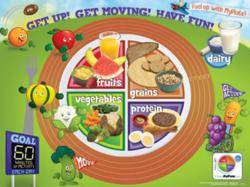 We've published over 85 resources to support MyPlate education.
Owatonna, MN (PRWEB) May 31, 2013
This Sunday, June 2nd marks two years since First Lady Michelle Obama and the United States Department of Agriculture (USDA) announced MyPlate, the new food icon that replaced the twenty-year-old Food Pyramid. MyPlate is the "new generation" food icon designed to prompt people of all ages to think differently about their food choices.
Learning Zonexpress (LZX), a National Strategic Partner of the USDA, feels that's something to celebrate. Founder and CEO, Melanie Nelson says, "The team at LZX has worked diligently to support MyPlate messages and make educators' jobs easier through practical teaching tools. We've published over 85 resources to support MyPlate education."
Nelson and her team announced two new MyPlate posters this week that emphasize physical activity. "These posters help promote Let's Move and encourage healthy eating habits," she says.
The Kids Active MyPlate Poster encourages children to get moving, have fun, and fuel up with MyPlate. Fruit and vegetable Garden Heroes characters promote healthy food choices and 60 minutes of physical activity.
The Active MyPlate Poster highlights how to build a healthy plate with tips for selecting the best choices from each food group, while emphasizing the importance of daily physical activity. Additional tips include how to eat the right amount of calories for you and foods to cut back on.
Learning ZoneXpress, based in Owatonna, Minn., is a leading source of award-winning nutrition education resources. Its mission is to promote health by providing easy access to practical teaching tools for nutrition and life skills. LZX offers a wide variety of educational products including posters, handouts, videos, games and lesson plans. For more information about Learning ZoneXpress products, visit http://www.learningzonexpress.com or call Toni Meyer at 888-455-7003.