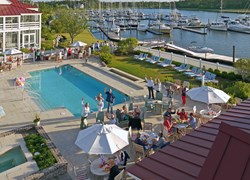 Host of 3rd Annual Leukemia Cup Regatta
New Bern, North Carolina (PRWEB) May 31, 2013
Real Estate Scorecard salutes River Dunes, an Inner Banks marina community in North Carolina who is the host of the 2013 Leukemia Cup Regatta to be held on the Pamlico Sound next weekend, June 7-9, 2013. This is the third year the community has united itself to support a cure for Leukemia and River Dunes reports over $200,000 raised to date. In 2012, 37 boats competed at River Dunes and through their synchronized efforts, helped raise $106,000 towards a cure for blood cancers and improve the quality of life of patients and their families. More than 35 Leukemia Cup Regatta events take place each year throughout the U.S. and in Canada. Only two events take place in North Carolina.
River Dunes is a Nantucket-style Inner Banks marina community located in Oriental North Carolina, a city where sailboats outnumber residents three to one. Just beyond the community's Grace Harbor is the Pamlico Sound, the largest protected inland waterway between Florida and the Chesapeake Bay. This area is known as a sailboater's paradise located between the Outer Banks and the mainland.
Grace Harbor has 124 boat slips and can accommodate boats from 35 feet up to 90 feet long. The Intracoastal Waterway (ICW) is located just beyond River Dunes 1,100 private boating channel. The community has been honored as Sustainable Community of the Year for its green marina practices. River Dunes also won our 2013 Bliss Award for Best Coastal Community of the Year because of its architectural excellence, high quality amenities and curb appeal. Property owners have also revealed their satisfaction to Real Estate Scorecard.
The 2013 Leukemia Cup Regatta weekend events at River Dunes include:
Captain's Reception on Friday night
Racing on Saturday and Sunday
Shoreside Celebration Party catered by Chelsea
Live Entertainment by Papa Sol
Silent and Live Auction
This busy Inner Banks marina community recently hosted an unforgettable Memorial Day homecoming event for 85 of its property owners and guests. River Dunes Zen-like pool area with fire pits overlooking the marina was the perfect setting for the sunset luau and family oriented events they have year round.
River Dunes in North Carolina began development in 2006 and to date, has 34 Lowcountry cottage-style homes built spread across 14 miles of shoreline. The community is 1,345 acres with 328 acres preserved as a conservation easement. Additional Harbor Village amenities include a 11,500 square foot clubhouse, fitness center, hot tubs, steam showers, intimate Lake House, and authentic Nantucket-style chapel where many couples have said "I do". Ground breaking is planned for a new tennis facility in the Harbor Village. Whether by land or sea, this Inner Banks marina community has plenty of outdoor activities to enjoy as a property owner such as bicycling, kayaking, paddle boarding and exploring the nature trails. Tidewater homes and cottages begin just under $500k.
It's not too late to attend the 2013 Leukemia Cup Regatta at River Dunes and get an inside glimpse of this compassionate award winning coastal North Carolina community. Visit Leukemia Cup Regatta or call River Dunes direct at 800.975.9565.
About Real Estate Scorecard:
Real Estate Scorecard writes unbiased real estate reviews providing in-depth information about popular gated communities in Florida, Georgia, North Carolina, South Carolina and Tennessee, all in an effort to help people discover where to retire in the Southeast.
Website address: http://realestatescorecard.com