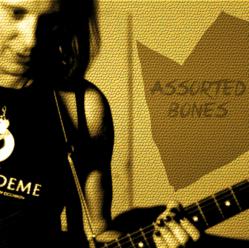 There can be positives gained from dealing with the hardships of cancer. This album is my way of hopefully helping others in a unique way, and giving them hope that cancer can be beaten, and ultimately used as a way of growing as a human being.
Chicago, IL (PRWEB) May 31, 2013
Mark Mikunas, co-founder of SerenadeMe, has released his newest album Assorted Bones, and asks that anyone who downloads and enjoys it give to help childhood cancer research.
Mark was diagnosed with testicular cancer in 2004 and underwent several surgeries. In 2010, the cancer returned, and he had to endure a difficult chemotherapy regiment and surgery before being declared cancer free in November 2010. He chronicled his last experience here.
"I wanted to help the cause of finding new ways of dealing with and eliminating cancer. Since my life changed profoundly because of it, I knew I needed to find my own way of helping others dealing with similar struggles. My experience with cancer gave me a new appreciation for following my passions. It made me realize we cannot afford to watch the world pass us by. This album was my creative release after a very difficult period."
The album is a mix of many influences, but Mark cites Jeff Buckley, Mike Patton, Tom Waits, and Leonard Cohen as his main influences during the period. The style is darkly romantic pop, introspective and at times abstract, other times melodic. Although guitar is the focal instrument throughout, he often verges into electronic or even classical styles giving the album a genre spanning feel.
About SerenadeMe. SerenadeMe is a service that allows people to help create custom music and songs for any and every occasion. Visitors to the SerenadeMe website provide details such as information about the receiver, the occasion, and numerous other details right down to the vocal style.They can also personalize details such as male or female singer, tempo, lyric style, and mood that they would like to convey. It is quick and easy for anyone to express the style of song they want, ensuring quality no matter what genre they choose.
Whether a birthday gift, engagement present, first wedding dance song, or a theme for a thrilling vacation video, SerenadeMe "is committed to helping people find their voice. Let the world hear what you hear".