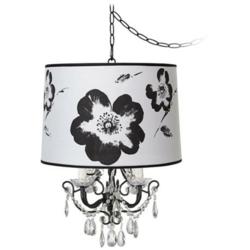 This new design combines the elegance of chandeliers and the personal style of lamp shades in one package!
Los Angeles, California (PRWEB) May 31, 2013
Lamps Plus, the nation's largest specialty lighting retailer, announces a new development in its long line of lighting fixture and lamp innovations: the shade chandelier, combining designer lamp shades with small chandeliers. Expanding on the company's history of providing customers with exclusive and patented lighting designs, these shade chandeliers are an on-trend development that leverages the company's considerable inventory of specialty lamp shades and small chandelier fixtures.
The design conceit is relatively simple: designer lamp shades encircle the outside of mini chandeliers, resulting in a luxurious style ranging from 13 to 17 inches wide. Says Dennis Swanson, President and CEO of Lamps Plus, "the combination of a lamp shade and chandelier is inspired by the luxe living trend we're seeing across the shelter industry, marrying the chandelier's elegant arms and crystal drops with the individualized style personality of lamp shades."
By combining different shades with chandelier bases, a variety design options arise. From a black finish chandelier wrapped in a black suede shade to a designer drum shade with chandelier in antique gold finish, every design combination is assembled in the company's California headquarters and has an individualized, custom look.
These shaded chandeliers are also available with a variety on hanging options to meet the DIY home decorator's needs. "We've seen interest in both swag and pendant style shades among tastemakers and our customers," explains Swanson. "So we've made this new design available in both styles." Swag style chandeliers allow people to drape the power cord stylishly from point to point across the ceiling and are available as both plug-in designs and hardwire designs that install directly into a ceiling junction box. Pendant style shade chandeliers that hang straight down are also available and, like hardwire swags, install at the ceiling junction box.
"The shade chandelier joins our recently launched Color+Plus lighting line, multi-swag chandeliers, and giclee art shades as the latest in a series of designs specially developed to provide our customers with multiple options for decorating their homes." Select shade chandeliers are available at the company's retail locations; the complete selection is available online.
About Lamps Plus
For more than 30 years, Lamps Plus has been synonymous with excellence in the retail lighting industry. Established in 1976, Lamps Plus is the nation's largest specialty lighting store, with more than 40 superstores throughout the western United States. In 2013, LampsPlus.com was named a Top 10 Housewares/Home Furnishings e-tailer and a "Hot 100" world's best retail website by Internet Retailer Magazine. Together with its retail locations, the company serves customers nationwide with the largest selection of functional and decorative lighting fixtures, accessories, furniture and home decor. This selection includes hundreds of products, ranging from traditional chandeliers to the latest in home decor, available exclusively from Lamps Plus. The company also holds several patents for innovative lighting. Services offered include in-home lighting consultations, in-store workshops and installation from expert, licensed electricians. American Lighting Association certified designers are available to offer product recommendations and advice in all our stores, by phone or online at LampsPlus.com. The Lamps Plus family of websites also includes 55 Downing Street, Lighting Luxury Style, Builders Discount Lighting, and Lamps Plus Open Box. Visit the official Lamps Plus website: http://www.lampsplus.com.