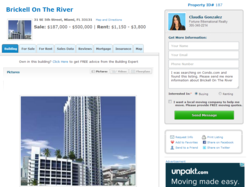 Miami, Florida (PRWEB) May 31, 2013
Condo.com, the #1 condominium website in the world, has released a new and improved version of its Building Expert™ advertising product to give real estate agents exclusive branding and enhanced exposure on over 150,000 buildings in every major metro across the country. The product now enables an agent to have a significant and targeted market presence and full control on leads generated from one building or a package of the top condo buildings in their respective markets.
Condo.com's Building Expert™ is a one-of-kind marketing solution for agents, unique to the real estate industry. Agents receive exclusive branding at the building and unit level so that they are the sole contact being displayed on the building. Their contact information, photo and branding is displayed alongside the building listing and units on Condo.com. Both buyer's agents and listing agents can benefit from the exclusivity and targeted exposure this product offers. Whether the agent is looking to gain more listings in the area, has a unit within or near the building, or is seeking targeted exposure in a certain neighborhood or zip code – being a "Building Expert™" will help them exceed their goals.
"It is absolutely essential for agents to have a strong web presence, including a unique customer acquisition program that gives them exclusivity for real-time inquires being made by millions of people searching our site," said Richard Swerdlow, CEO of eRealEstate Holdings. "Agents that have an expertise in particular condo buildings want to become established as the Building Expert™. Once an agent takes that building on Condo.com – it is theirs, essentially locking out their competition," he added.
Swerdlow also points out that prospective buyers are doing their homework on Condo.com, looking for the best agent to help them with the condo purchasing process. Since over 95% of consumers start their home buying research online, agents must be front and center on the web. Condo.com's Building Expert™ also allows agents to showcase their expertise to prospective sellers and is a great way to capture more listings. Real estate professionals who specialize in condos, apartment homes and townhouses have the advantage of being well promoted on Condo.com, where millions of condo searches are made monthly.
The Building Expert™ is one of several high-impact programs in the Condo.com advertising product lineup that offers real estate professionals easy to use tools for better online success. Another proven product is the Local Expert™, where real estate agents are featured on the website with branding and contact information by location – zip code or city. Agents appear on individual search results for geographic locations, offering motivated buyers and renters an easy way to inquire by e-mail or phone.
All advertising programs are available in the eRealEstate Pro Center located at http://ad.condo.com. Real Estate professionals can easily promote themselves to thousands of visitors every day using affordable lead generation programs, free property listings and banners advertising. Condo.com, Houses.com and Property.com collectively receive over 20 million annual visitors who spend more than 1.4 million hours searching for real estate and generate over 300,000 qualified property inquiries.
About eRealEstate Holdings LLC
eRealEstate Holdings LLC owns and operates the category-defining real estate portals Condo.com, Houses.com, Property.com. These top sites have over 30 million properties for sale, rent and vacation in the United States and 70+ countries around the world. The sites receive more than 1.5 million visitors per month, and cost-effectively deliver exposure and qualified leads to builders, real estate professionals and homeowners. The privately held eRealEstate Holdings LLC is headquartered in Miami, Florida.