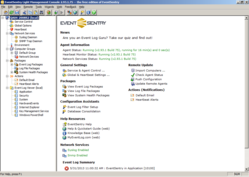 "NETIKUS.NET has been providing free tools from the beginning, but this latest update is the biggest leap forward for our EventSentry Light users".
Chicago, IL (PRWEB) May 31, 2013
NETIKUS.NET ltd today announced a major update to the free edition of its real-time monitoring solution EventSentry Light. With the release of version 2.93.1.75, EventSentry Light now offers significantly more functionality which was previously only available in the commercial edition of EventSentry.
"NETIKUS.NET has been providing free tools from the beginning, and EventSentry's predecessor, EventwatchNT, was one of the first freeware event log monitoring products on the market. Since then we've been continuously improving EventSentry Light, but this latest update is the biggest leap forward yet for our EventSentry Light users", says Ingmar Koecher, CEO of NETIKUS.NET. "By removing most restrictions in EventSentry Light, we've transformed it into a full-blown monitoring product that can do an amazing job monitoring small networks, without spending a dime – a very exciting change", Koecher continues.
EventSentry Light can monitor up to two Windows-based computers and 2 network devices. Users who need to monitor more hosts or require more functionality like the award-winning web-based reporting can seamlessly upgrade to the full version EventSentry, with pricing starting at only USD 85. The full edition of EventSentry includes web-based reporting, log consolidation, compliance tracking functionality and more, all backed by award-winning customer support. Support for EventSentry Light is available through the NETIKUS.NET forums which are continuously monitored by NETIKUS.NET staff.
EventSentry Light can be downloaded from http://www.eventsentry.com/downloads without the need to register. "It really doesn't get much easier to get a monitoring solution in place," explains Koecher, "you go to our site, download, run the installer, and you're covered. Done".
About EventSentry
EventSentry™ is a comprehensive real-time event log, system and network monitoring solution. EventSentry helps customers meet their compliance requirements as well as prevent business outages with its powerful server health, network and environment monitoring components. The extensive software and hardware inventory capabilities in EventSentry provide additional value to its users. EventSentry is backed by excellent support, and can be highly customized to integrate with virtually any environment.
About Netikus
Founded in 2002, NETIKUS.NET is a privately owned software company located in Chicago, IL developing both free and commercial software products for IT professionals. NETIKUS.NET ltd can be reached at 1-877-NETIKUS or on the web at http://www.netikus.net.
All product and company names herein may be trademarks of their respective owners.