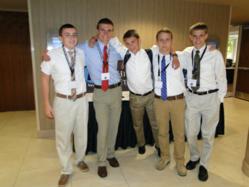 (PRWEB) May 31, 2013
Georgia Military College is now planning the 1st Annual Georgia State Ethics Bowl Championship for 2014, and will likely be the first college, nationwide, to create and sponsor a HSEB State Regional Championship. The Ethics Bowl continues to be an outstanding program at GMC and will continue to grow.
James A. Brady of the Humanities Department at Georgia Military College said, "This continues to be an outstanding program. I am honored to coordinate our GMC initiatives and truly appreciate the terrific support given by our GMC Augusta leadership."
The last weekend in April held the 1st Annual National High School Ethics Bowl Championship at UNC Chapel Hill. The GMC CSRA champion, Elbert County High School, coached by Major Edward Lovin, represented the CSRA in the competition. Elbert County had two wins and two losses against teams from Washington, D.C., Baltimore, Chapel Hill, New York City, etc. The 1st NHSEB winner was Saint Petersburg High School, Florida. Additional placements for the other competing high school teams will be releases later this week.
The Ethics Bowl Competition allows students to critically examine ethical concerns and devise responses to many ethical dilemmas. Originally introduced on the collegiate level, the National High School Ethics Bowl program has been adapted to high school students as well.
About the company:
Georgia Military College is a two-year junior college that provides liberal arts based undergraduate curriculum and prepares students for transfer to four-year colleges and universities. The college offers 28 degree programs, small class sizes, and flexible scheduling with day, night, weekend, and online classes. Financial aid is available for qualified students.
The campus is located at 115 Davis Road in Martinez, and also offers classes on post at Fort Gordon through the Education Center, located at 741 Barnes Avenue. If you would like more information about Georgia Military College or would like to schedule a visit, please call 706.993.1123 or visit http://www.gmcaugusta.com.