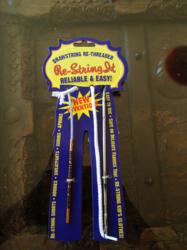 On the lookout for a unique, off the beaten path and truly useful Father's Day gift? Look no further!
(PRWEB) May 31, 2013
Those on the lookout for a unique, off the beaten path or truly useful Father's Day gift should look no further.
Re-String It, the universal drawstring re-threading tool, is a must-have that can quickly be used to rethread everything from drawstring shorts, to travel bags to hoodies.
Re-threading clothing like drawstring shorts, hoodies and other items is a time-consuming and annoying task—especially for busy dads or men who may be likely to not take the time to fix garments no longer wearable due to undone strings said Chad Archibeck, inventor and president of Re-String It.
"The issue of drawstrings becoming undone is never a big deal—until it becomes a big deal and headache," said Archibeck. "Re-String It is a savvy, quick fix that ensures you'll never have to deal with that headache and can make the most of your investments. We give customers a lifetime guarantee because our product is perfect."
Re-String It, which quickly and easily re-threads anything with a string and solves the problem of drawstrings coming out of hoodies, shorts and pants has been called a 'must-have' for any household by numerous consumers, media and bloggers. Re-String It saves consumers time (from having to use safety pins) and money (from having to buy new clothing).
The heavy duty, yet ultra-slim Re-String It tool uses a tube with an 18-gauge wire to loop drawstrings back through sweatpants and sweatshirts, as well as industrial laundry bags and medical scrubs. The tool comes with a lifetime warranty.
Purchase Re-String It in time for Father's Day at http://www.re-stringit.com and take advantage of free shipping now. Re-String It is also available at Amazon.com, which also has other great Father's Day gift ideas including a variety of men's clothing from top retailers, sports and recreation equipment, tools and more.
About Re-String It:
Re-String It is an award-winning product of CWA Enterprises, which was created to bring the perfect must-have domestic tool to market. Re-String It is a heavy duty, versatile re-stringer that is easy to use and won't damage clothing. The rounded edge on the adjustable loop enables use on delicate materials. Visit http://www.re-stringit.com for more information.