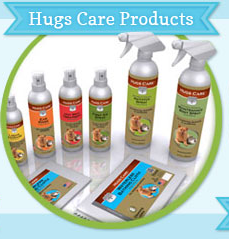 By offering our products for private labeling we hope to foster growth of small businesses within the pet health industry and create mutually beneficial relationships
Springfield, MO (PRWEB) May 31, 2013
Pet health company Healthy Brands for Life recently joined forces with Hugs Pet Products to provide their customers with a new line of advanced pet health products with a primary focus on cleansing, healing and protecting. Under the private label agreement, Hugs will offer customers an array of pet products including: anti-itch spray, liquid bandage, first aid spray and ear rinse.
The Hugs Care line of products is different than many pet skin care products, as the ingredients were selected to not only effectively treat the injury or condition, but also work to improve the overall skin health of the animal.
"Healthy Brands for Life is excited to enter this partnership with Hugs," says David Hayford, operations manager at Healthy Brands for Life. "By offering our products for private labeling we hope to foster growth of small businesses within the pet health industry and create mutually beneficial relationships."
Private labeling is a rapidly growing trend across many industries which allow products to be branded under a specific company name or brand. This allows ready proprietary formulas that have been carefully researched and crafted with the highest quality of ingredients to be made available to businesses that would not otherwise be able to offer the products or goods.
"Hugs is equally excited about the partnership with Healthy Brand for Life. This allows Hugs to be able to not only offer innovative toys and accessories, but also top quality health care products. We can approach a company that is looking to consolidate vendors and offer a broad range of quality products and make it easier for them to do business. Another great aspect of our partnership is the ability to develop new products that complement our rapidly growing toy line."
For information about private labeling Healthy Brands for Life products email david.h(at)hb4l(dot)com.
Healthy Brands for Life
Healthy Brands for Life was formed on the foundation of creating science-based, laboratory tested products that are safe, effective and economical for any family. Healthy Brands for Life is committed to helping improve the quality of life for you, your family and pets by providing products, information and services so you ALL can have healthier and happier lives.
Hugs Pet Products
Hugs Pet Products was established in 2009 as a venture between individuals, knowledgeable in all facets of the pet product industry, who maintain dedication to taking new and unique pet inventions and directly marketing them to retail merchants around the world. Hugs Pet Products designs, manufactures and distributes quality and innovative pet products worldwide.