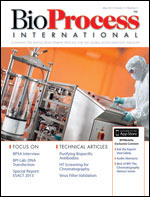 New York, NY (PRWEB) May 31, 2013
BioProcess International (BPI) announces the publication of the May 2013 issue of BioProcess International on the App Store for iPad and iPhone. With this issue, BioProcess International continues to bring exclusive app-only content available only to mobile app readers.
Exclusive content for May includes:
Ask-the-Expert — "Viral Clearance Methods". A talk with Dr. Hazel Aranha, Manager of Viral Clearance and Viral Safety at Catalent Pharma Solutions. Dr. Aranha discusses some recent viral contamination reports and what can be learned from them as well as a number of viral inactivation and virus removal methods.
Best of BPI Revisted — An interview with the author and a republishing of "Chromatography Advisor" by Yamuna Dasarathy, Marketing Manager, Pall
Author Insights — Article introductions and insights recorded by the authors of each article offer additional insights to help readers gain the most from each topic.
This Issue of BioProcess International also features the following articles:
Broadening the Baseline: Part 2, BPSA Focuses on End-User Concerns
Transformation By Infection: Genetic Engineering for Biodevelopment
Better Cells for Better Health
Purifying Common Light-Chain Bispecific Antibodies: A Twin-Column, Countercurrent Chromatography Platform Process
High-Throughput Chromatography Screenings for Modulating Charge-Related Isoform Patterns
Artifacts of Virus Filter Validation: Best Practices to Maintain the Scaled-Down Model
Bioengineered Ears: The Latest Advance
Also Available: The Single-Use Technology Supplement including the following articles:
Broadening the Baseline: Part 1, BPSA Welcomes End Users to Share Expertise
Development and Qualification of a Scalable, Disposable Bioreactor for GMP-Compliant Cell Culture: Suppliers Put Quality By Design Concepts into Practice
Single-Use Pumps Take Center Stage
Implementing Disposable Sampling Devices for Fully Autoclaved Equipment
A Risk-Based Life-Cycle Approach to Implementing Disposables for Facility Flexibility
The Influence of Polymer Processing on Extractables and Leachables
Single-Use Technology and Modular Construction: Enabling Biopharmaceutical Facilities of the Future
Supporting Continuous Processing with Advanced Single-Use Technologies
Seeding Tissue-Engineered Vascular Grafts in a Closed, Disposable Filter–Vacuum System
Download the BioProcess International mobile app by searching the app store for "BioProcess International" or visiting:
http://itunes.apple.com/us/app/bioprocess-international/id471903987?mt=8
About BioProcess International
BioProcess International™ (http://www.bioprocessintl.com) is a monthly, controlled-circulation magazine devoted to the development, scale-up, and manufacture of biotherapeutics and biodiagnostics. Each issue provides the global industrial biotherapeutic community with up-to-date, peer-reviewed information detailing the business, politics, ethics, applications, products, and services required to successfully drive biopharmaceuticals, vaccines, and biodiagnostics through the development and manufacturing process.
BioProcess International™ is part of the IBC Life Sciences Division of Informa, plc, a leading international provider of specialist information and services for the academic, professional and business communities. Informa offers a world-class portfolio of publications, events and data services for researchers, students, lecturers and professionals in the academic and scientific communities worldwide.
Subscribe today at http://inf-sub.halldata.com/site/INF000015BCland/init.do.