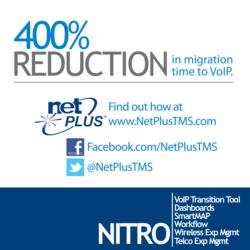 NetPlus will educate on the cost savings associated with an automated VoIP migration.
Gaithersburg, MD (PRWEB) May 31, 2013
NetPlus, a pioneer in automating VoIP transitions, is slated to give a break out session on automating the transition from legacy to VoIP and unified communications at IAUG. The session will educate on the time and cost savings that can be experienced with an automated transition. NetPlus will also be at booth 633 during the Solutions Expo to demonstrate new products and the NetPlus VoIP Transition Tool.
"I'm very excited to be giving a break out session at IAUG this year. There's been a lot of interest in automating the transition to VoIP and UC because those who have started looking into the move soon realize how much time and money they will be sinking into it. But with the NetPlus VoIP Transition Tool, many of those costs go away and the time it takes to transition is drastically reduced."
NetPlus has cut migration times from three years to six months, saving a client almost four million dollars in labor costs by utilizing the NetPlus VoIP Transition Tool to automate the migration process. With NetPlus VoIP Transition Tool, clients can better plan for their migration and make a significant organizational impact by realizing the benefits of unified communication and VoIP much faster. Additionally, clients can experience savings month to month on their telecom spend by utilizing VoIP service for those months they would have otherwise been on the more expensive TDM service in a manual transition process.
About NetPlus
NetPlus is a leading Communications Management solutions provider for both commercial and government entities. With over 25 years of experience NetPlus offers a suite of solutions for telecom expense management, data validation, fault management, inventory tracking and control, provisioning, and more. Customers like Department of Defense, Department of State, United States Air Force, Avaya, Verizon, and the Pentagon utilize NetPlus solutions for the daily operation of their communications and data network. NetPlus is JITC certified and can be procured through Vanguard and GSA. Headquartered in Gaithersburg, MD, NetPlus is a division of Ventraq Corporation. For more information, visit http://www.NetPlusTMS.com.