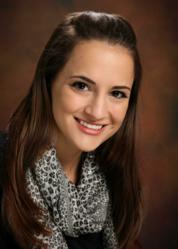 I'm looking forward to helping organizations build, strengthen, and defend their reputations as part of the Fallston Group team.
Bel Air, Maryland (PRWEB) May 31, 2013
Today, Rob Weinhold, Fallston Group Founder & Principal, announced that Kristi Frisch has joined the Fallston Group as Client Services Manager. In this role, Mrs. Frisch will develop and manage client relationships while enhancing the firm's local and national business development efforts.
Mrs. Frisch has extensive experience in marketing and communications with a background in client-facing services. Mrs. Frisch's most recent position was Communications Manager for Maryland Golf and Country Club in Bel Air, MD. Previous experience includes providing administrative support for a local law firm, among other professional experiences. Mrs. Frisch obtained a BFA from Towson University, graduating Magna Cum Laude in 2011.
Weinhold said, "Kristi brings a set of terrific interpersonal and organizational skills to the Fallston Group. It is wonderful to work with a true professional who really understands the importance of relationship building and delivering high quality, world-class service. Kristi's enthusiasm to ensure customer satisfaction, coupled with her communications background, will be essential to our clients as we continue to help leaders prepare for, navigate through and recover from issues of sensitivity, adversity and crisis."
"I'm thrilled to be part of such a unique, strategic company like Fallston Group," says Frisch. "Outstanding customer service has always been my number one priority. I'm looking forward to participating in the growth of the Fallston Group and helping organizations build, strengthen, and defend their reputations."
About
Fallston Group LLC (http://www.FallstonGroup.com) is Maryland's most progressive crisis management and communications firm that works with organizations to help them build, strengthen and defend their reputation. The Group's world-class experts work with private and public sector leaders to help them prepare for, navigate through and recover from adversity and crisis. Many chief executives refer to the Fallston Group as their "Chief Reputation Officer." Core services include:
- Crisis & Issue Management
- Strategic Communications & Media
- Safety & Security
- Resiliency Training