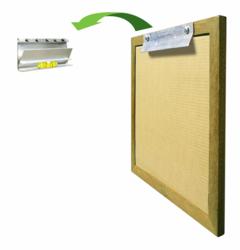 Los Angeles, CA (PRWEB) May 31, 2013
Menards is the first home center chain to pick up the new Apartment Hanger Line by Hangman Products. The unique appeal of the Apartment Hanger Line is its ability to hang art and mirrors from 30 to 150 pounds with the security and accuracy of Hangman, while leaving virtually no trace on walls. It is ideal for renters who want the freedom to decorate without fear of damaging walls, and also for homeowners who like to redecorate often but are discouraged by holes created with screws and anchors.
Menards will offer five products from the Apartment Hanger line, including two Safety Wire Hangers to hang objects 30 and 50 pounds. With these hangers, small nail holes are drilled in the aluminum at an angle which maximizes the strength of the installation. Each bracket is lined with a foam liner to protect the wall. Upon removal, the nail hole entry is so tiny it is nearly impossible to find. It can be removed, moved, reinstalled, without marking the wall. The Safety Wire hanger includes a safety lock, so framed art will not fall if jostled or bumped.
Menards will also carry the Apartment Hanger for Pictures and Mirrors in three sizes, 6", 12" and 18". These will hold 50, 100 and 150 pounds and include the Hangman bubble level. These products utilize two aluminum interlocking brackets that will not corrode and can be used indoors or outdoors. Like the Safety Wire Hanger, the system uses small nails which leave pinholes, and a foam pad to protect walls from scuffs and marks.
The Apartment Hanger Line will be in stores the first week of August.
About Hangman Products: Hangman Products creates hardware solutions for everyday needs. The multiple-patented Hangman Systems are carefully engineered to guarantee a safe and sturdy installation while promising to hang it level every time. Hangman's products range from Hanging Pictures, Hanging Mirrors, Hanging Framed Art, TV/Stereo Mounts and Safety to Garage/Slat Wall and Organization. They are designed to meet the installation requirements for retailers, consumers and manufacturers. Hangman's ever-expanding line of products can handle even the most difficult projects.