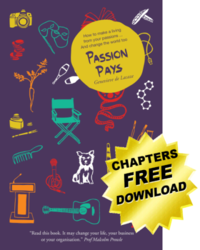 "There is a strong need to rethink the financial crisis, which is in fact existential." says Genevieve.
London, England (PRWEB) May 31, 2013
When it comes to jobs and careers, people dream not only of making money but also of being happy. But how can this feat be achieved? Is it even possible? This is exactly the topic of the latest radio episode of the Living and Thriving show, hosted by Rustie MacDonald and Amy
Bregy. The show welcomed guest Genevieve de Lacaze, a humanitarian, jobs and career expert, on Wednesday 29 May to help listeners in their career or job challenges.
With the recent release of her book 'Passion Pays: How to make a living from your passions… and change the world too', Genevieve, poses another important question: 'What is work really about?' This is a burning question in our current economic times as job losses, redundancies and job insecurities now force us to look under the surface.
"There is a strong need to rethink the financial crisis, which is in fact existential." says Genevieve. "People are looking in the mirror and asking themselves: 'What am I doing with my life?' The first thing to understand," she continues, "is that careers are overrated. We are multifaceted, ever-evolving human beings, and to find work that will fulfill us, we must first understand our deepest aspirations and their inherent adaptive nature." This is why 'Understanding your passions fundamentally' is the first of the four stages that Genevieve, aka GenieCoach, illustrates on the 'Passion Pays journey' of the reader.
To view a short trailer, look inside the book or download a free book sample, go to http://passionpaysbook.com. Listen now, at your leisure, to Genevieve's tips in this refreshingly enjoyable and light-hearted chat with Rustie and Amy on blogtalkradio.
About Genevieve de Lacaze
Genevieve de Lacaze is a job and career change expert and a humanitarian who loves creating passionate conversations and ventures to uplift people in their life and career choices. She writes articles, delivers presentations and workshops on many empowering subjects in Europe, USA and Central America.
She is the author of Passion Pays: How to Make a Living From Your Passions… and Change the World too.
She hosts the Get Passionate Radio Show.
She is the Official Expert Guide on Career Development at Selfgrowth.com, #1 self-improvement website and the Intl Head of Continuous Professional Development at the International Institute of Coaching (IIC).
But really. just an ordinary girl. changing the world. one passion at a time.