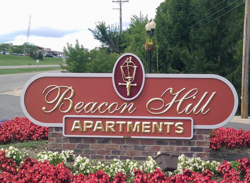 Elegance, Convenience & Comfort
Auburn Hills, MI (PRWEB) May 31, 2013
Beacon Hill Apartments, in the Auburn Hills, MI, is the vision of a luxury apartment home community within Oakland County that became an alluring reality. Occupying over 90 acres of "rolling hills" off scenic Walton Boulevard, the sprawling Beacon Hill community boasts a resort-like vibe – in addition to resort-class amenities – highlighting the "maintenance-free lifestyle" advertised by complex representatives for its residents. Additionally, the property now offers Executive Suites for short or long term accommodations, ideal for business travelers or those in the midst of relocating, in choices of designer furnished one, two and three bedroom luxury suites.
The development of this extraordinary apartment community traces its roots back to its founder, Anthony Randazzo who carefully crafted architectural designs of impressive apartment homes, the sole purpose at that time was to accommodate the needs of future residents. As the selection of multiple floor plans, landscape design and foresight for construction of an elegant clubhouse for the residents grew, so did the desire of providing the complex's residents a leisure-intensive environment. The efforts culminated in an upscale property with 624 luxury apartment homes.
Beacon Hill's lush, fertile grounds play host to tennis courts, a "crystal blue" swimming pool and manicured landscaping that makes for a perfect companion during a relaxing stroll. Further, the resort-esque Clubhouse with a Fitness Center and activities in strength training on full-circuit equipment plus a sauna facility allow residents to maintain a personal fitness program. The Clubhouse's Great Room represents a gathering place for events, embracing the traditional feel of Auburn Hills' own Beacon Hill – a stately fireplace made of oak is the centerpiece for elements made of supple leather, wood and even art. The activities are organized by a committee and are comprised of social events such as Christmas parties, pool parties and wine/cheese mixers.
In keeping with a philosophy that focuses on providing elegance, convenience and comfort, Beacon Hill representatives cite the apartment units' myriad of creature features such as supremely appointed Euro-design kitchens with microwaves, self-cleaning ovens, frost-free refrigerators, dishwashers, garbage disposals, vertical blinds, vaulted or cathedral ceilings with ceiling fans available on upper-level apartments, in-home laundry with washers and dryers, elegant gas fireplaces, basements and dens that are available in some apartments, storage closets, private entries, private balconies or patios, garages, carports, ample parking and the aforementioned elegant Clubhouse, Fitness Center with sauna and sparkling pool and outdoor tennis courts with provisions for sand volleyball and basketball.
Beacon Hill Apartments are within the vicinity of Great Lakes Crossing, fine dining, Meadow Brook, the Palace of Auburn Hills and the Village of Rochester Mall. Future plans for this complex include a new phase of development that has the management team "very excited" and which will revolve around three-bedroom and three-bath apartments with attached garages; the phase will also encompass furnished Executive Suites for short-term residents.
Beacon Hill leasing consultants can be reached by calling (248) 373-5080. More information can be obtained by visiting http://www.bhapts.com.